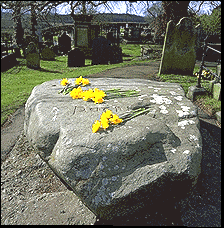 St Patrick's Grave, Downpatrick
When St Patrick came to Ireland in 432 he meant to sail up the coast to county Antrim where, as a young slave, he had tended flocks for six years on Slemish mountain. But strong currents swept his boat through Strangford's tidal narrows and he landed where the Slaney river flows into the lough.
Nothing daunted by this change of plan, Patrick set about his missionary business, starting with Dichu, the local chieftain. Dichu was quickly converted and gave him a barn (sabhal pronounced 'saul' in Gaelic) for holding services. Over the next 30 years Patrick converted the Irish to Christianity. He died at Saul in 461 and was buried in Downpatrick.
According to the 8th-century hymn of St Fiacc, Patrick received his last communion from St Tassach. You can see the ruins of St Tassach's church, one of Ireland's earliest Christian buildings, at Raholp near Saul. At Saul itself a replica of an early church with a round tower marks the place where Patrick preached his first sermon to the Irish.
From the sixth to the ninth centuries, missionaries from Ireland - including St Columbanus and St Gall from Bangor and monks from Movilla at Newtownards, another important monastery on the Ards carried the light of Christianity into a Europe languishing in the Dark Ages.
The late 12th century saw the building of the Cistercian monasteries on Strangford's shores. Both Grey Abbey and Inch Abbey, near Downpatrick, had filial connections with England and, for nearly. 400 years the Cistercians of Strangford sailed the Irish Sea, taking much needed Ulster corn, wheat, flour, fish and salt to the beleaguered English abbeys of Holm Cultram in Cumberland and Furness in Lancashire.
Sailing home to Strangford in 60-oar galleys heavily laden with Cumberland stone and iron ore and steering by the sun and stars, the sailor monks of the early Middle Ages risked death on every journey.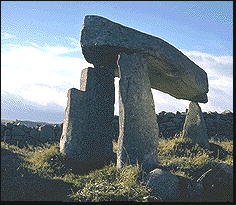 Legananny: Northern Ireland's best known 'dolmen'
West of Strangford is the wide-streeted town of Ballynahinch where 7,000 United Irishmen lost the decisive battle of the 1798 rebellion. South of Ballynahinch on the slopes of Cratlieve mountain stands the Legananny Dolmen, one of Ireland's finest neolithic tombs - country people called them 'giants' graves'.


County Down Overview | Exploring County Down | Ards Peninsula | Mourne Mountains |
St. Patrick's Country |
---
Northern Ireland Homepage | Travel Tips | Golf | Industrial Heritage | Walking, Hiking & Horseback | Activities | Calendar of Events | Transportation | Cuisine and Restaurants | Birdwatching | Fishing | Ancestral Heritage | County Antrim | County Armagh | City of Belfast | County Down | County Fermanagh | County Londonderry | County Tyrone | Tour Operators | InterKnowledge Home Page
---
Copyright (c) 1995-1997 interKnowledge Corp. All rights reserved.