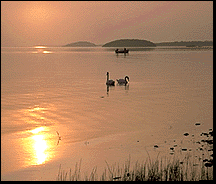 The rivers and lakes of Fermanagh are heavy with fish and Lough Erne has claimed many world coarse angling match records. The trout and salmon fishing is good too - so good in fact, that the locals tend to ignore the coarser kind - and the whole region is highly developed for fishing.
The intermittent barking of a raven from the limestone cliffs or an occasional visit from a circumspect whooper swan is likely to be the only encounter of the non-piscatorial kind because Fermanagh is still wonderfully empty of crowds.
Roach, perch, bream, rudd and eels abound, and the reedy shores of Lough Erne and the two Loughs Macnean in particular hold stocks of heavyweight pike. The Erne is famous for its winter roach and pike fishing though you can catch huge specimens at other seasons too. Lough Melvin has a good run of spring salmon and unusual kinds of trout - peculiar to remote lakes.
The compleat angler's every need is catered for, on and away from the water: there are clearly marked access points, easy parking, well stocked tackle shops, convenient hotels and B&Bs, good restaurants and pubs.
A bonus when fishing the Navar Forest lakes is a scenic drive to the cliff top and a tremendous view across Lough Erne to the Donegal mountains. There are picnic areas up here and the forest is popular for family outings when some want to fish and others definitely don't.
If you are not fishing or cruising or enjoying the water in one way or another there is plenty to do in Fermanagh. Major attractions are the Marble Arch Caves, price: about US$8.00 for a 90 minute guided tour which includes an underground boat trip on a subterranean lake and exploration of stalactites and stalagmites in these underwater caves; and two superb stately homes, both in National Trust care and open from April to September. Castle Coole, the Palladian mansion house designed by Jarnes Wyatt for the Earl of Belmore at Enniskillen, was completed in 1796. It contains magnificent woodwork, fireplaces, furniture and a library. Florence Court, seat of the Earls of Enniskillen, has sumptuous rococo plasterwork; in the gardens is the original Florence Court yew tree (taxus baccata fastigiata) now found all over the world.
The origins of the island town of Enniskillen go back to prehistory when this short nexus was the main highway between Ulster and Connaught. Enniskillen Castle was the medieval seat of the Maguires, chieftains of Fermanagh, who policed the lough with a private navy of 1,500 boats.
Today the castle houses the county museum which contains exhibits and an audio-visual program on the region's natural history, archaeology and folklore, the Regimental museum with trophies of the Inniskilling regiments who fought at Waterloo; price: about US$1.60. Shakespeare's contemporary, Edmund Spenser, wrote about Enniskillen, and Oscar Wilde and Samuel Beckett were both pupils at the royal school here. The Buttermarket is now a craft centre and you can buy lace, knitwear and Belleek china. To see this distinctive porcelain in production, go to Belleek village where the Erne river rushes to meet the Atlantic at last.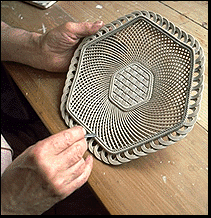 The Belleek Pottery factory provides visitors with a close-up look at the firing, glazing and decorating of this world-famous porcelain. Belleek was established in 1857 and its craftspeople still employ 19th century techniques; price about US$1.60 for a 20 minute tour.

County Fermanagh Overview | Lough Erne | The Shannon Erne Waterway
---
Northern Ireland Homepage | Travel Tips | Golf | Industrial Heritage | Walking, Hiking & Horseback | Activities | Calendar of Events | Transportation | Cuisine and Restaurants | Birdwatching | Fishing | Ancestral Heritage | County Antrim | County Armagh | City of Belfast | County Down | County Fermanagh | County Londonderry | County Tyrone | Tour Operators | InterKnowledge Home Page
---
Copyright (c) 1995-1997 interKnowledge Corp. All rights reserved.