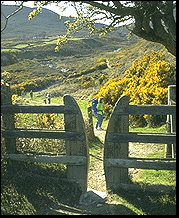 The scenic beauty and the variety of the landscape make Northern Ireland a great place to explore on foot. The wide scatter of villages and small towns across the country means that forest trails, clifftop paths, mountain hikes and pleasant strolls in country parks are literally on everybody's doorstep. The best known trail-certainly the longest at 560 miles! - is the Ulster Way. This famous circular path, now largely waymarked, runs all round Northern Ireland and has other trails coming in to join it, notably from Donegal and Cavan, as well as loops and extensions of its own. There are many other country waymarked walks, just as pleasant but more local and less strenuous, such as the North Down Coastal Path, and also numerous very popular self-guided town trails. Ask at tourist information centres for details of walks in the area. Be prepared for sudden changes in the weather. Carry spare clothing. Boots are best. If you walk alone leave word of your route and expected time of return.
Few walkers can spare a month to walk the whole of the Ulster Way but there are many people who very much like the idea of walking sections of it. All the routes described here, long and short, include a specially attractive section of the Wayl Most are convenient 'circular' walks, though a few are liner sections chosen so that the start and finish can be linked by public transport or the cunning use of private transport.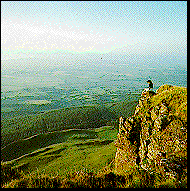 Fourteen Great Walks On The Ulster Way
The map sketches provide only a general indication of the route. Outline descriptions are based on routes published in full in Ulster Rambles. With few exceptions you will need an Ordnance Survey (OSNI) map. The relevant sheet number in the OSNI Discoverer series, scale 1: 50 000 (2cm: 1 km) - about 1- l/4 inches to one mile - is indicated. Grid references are given for the start of each walk and a rough estimate of duration, excluding stops and side trips. As a general guide allow an hour for every 2-1/2 miles (4km) plus 30 minutes for 1,000 ft (300m) climbed.

---
1. CAVE HILL, BELFAST
Distance 2-1/2 miles (4km)
Minimum time 2 hours
OS ref 325811 sheet 15
Park at the zoo (see the animals afterwards).
Steps, leafy path, laurel, larch, hazels, blackberries.
Wood thins to grassland. Neolithic men lived in the caves. Panorama from McArt's Fort extends to Mournes and Slieve Gullion. Take care descending from summit.
---
2. LAGAN VALLEY TOWPATH
Belfast To Lisburn
Distance 9 miles (14km)
Minimum time 4 hours
OS ref 338716 sheets 15 & 20
Public transport: Lambeg, Lisburn
Route soon joins Ulster Way (UW) as it emerges from suburbs of south-east Belfast but deviates slightly from UW at the M I . The walk is nearly all on the towpath of the canal and canalized river which opened in 1763. Plants to note: Himalayan balsam, purple loosestrife, horsetails, comfrey and butterbur (like giant rhubarb). Late summer duckweed on the water surface looks like a bright green carpet. Waterside birds include moorhens, coots, dabchicks, mallards. Listen for the magpie's rattle and the occasional shrill pipe of kingfishers. Cross to the north bank at Shaw's Bridge. Look out for squirrels in the splendid trees opposite. Recommended side visits: Edenderry village (and up to the Giant's Ring through the field gate), Drumbeg church, Dixon Park.
---
3. A MOURNE MOUNTAIN WALK
Distance 12 miles
Minimum time 6 hours
OS ref 373304 sheet 29
A popular approach to the Mournes. Note the clear unpeaty water of the Glen river, striking rock strata, fine trees. The wood fades away and a granite gravel path runs almost to the great Mourne Wall, built 1904-22 to enclose the catchment area of the Silent Valley which was dammed in the 1920s. Look back down the glen to the elegant sweep of the bay. From here the wall provides a perfect if steep guide to summit of Slieve Donard, Ulster's highest peak - not to be missed if the weather is good. Brandy Pad is an old smugglers' trail. Passing below The Castles (rock towers) look South where isolated granite towers (tors) stand here and there on the ridges. They seem almost manmade. You might be side tracked up 400 ft (120 m) to inspect the Diamond Rocks. Beyond the Hare's Gap it's a long tramp along Trassey river. Examine the sheep pens, where strays were probably kept after the hill had been gathered and the sheep sorted out according to their fleece-marks. Now you pass gorse banks, then UW signs and stiles, hazel coppice, young fir plantation and a fully grown wood of big Douglas firs. Just before Parnell's Bridge UlsterWay goes South but you stay with the river bank. Do not cross the bridge but go straight down to the small lake.
---
4. TOLLYMORE FOREST PARK
Distance 9 miles (14km)
Minimum time 4 hours
OS ref 345327 sheet 29
The Long Haul Trail
Entrance is through the fantasy Barbican Gate. The Long Haul Trail starts from the carpark and is marked by red arrows. Have a look at the map display to orient yourself. A pleasant amble along the lovely Shimna river and over Parnell's Bridge where you meet up with the UW. The next 3-1/2 miles (6 km) are on the UW, up and down, a delight of a walk. As you drop down from Curraghard, the final viewpoint, with splendid views of Newcastle and Dundrum Bay, watch for the UW heading down right towards the town, but you continue along the LHT. Recommended: allow time to see the weird and wonderful bridges, gateways, pillars and other stone follies. The gothic church is in fact a barn which now contains a cafe and visitor information.
---
5. A WALK IN ST PATRICK'S COUNTRY
Distance 7 miles (11km)
9 miles (14 km) including Struell Wells
minimum time 4-5 hours
OS ref 512464 sheet 21
Walk starts near Saul village pub. Climb up Slieve Patrick, small hill with a huge statue on top, for panorama. In Raholp, past pub no. 2, your route is lane on L, cross the A25, 1/4 mile (0.4 km), L down 'no through road' between high hedges of blackthorn, elder, ash, tied with ivy and brambles, over stile, to muddy Slaney river (redshank, mallard) where Patrick is believed to have landed in 432 AD. Follow in his footsteps, note brown signs 'St Patrick's Way'. At waterworks gate, follow yellow arrow to Ballystokes (note direct path back to Saul if bad weather) and on to holy wells (good for sore feet!) in beautiful wild valley at Struell. Return via Ballyalton. Recommended side visits: Saul church (local history displays worth seeing before walk), Loughmoney Dolmen, historic Raholp church ruins.
---
6. ROSTREVOR FOREST
Distance 5 miles (8km)
Minimum time 3 hours
OS ref 187183 sheet 29
A fine forest walk with superb views over Carlingford Lough. Follow blue arrows and UW sign at first, then up and up. After R hairpin and bridge with crocodile-back parapets, pause to admire views of Slieve Gullion. Newry and the South. Next a steady tramp along to the top of scenic drive (picnic site/toilets). The view from Slievemartin is worth effort of steep climb. Clogh More 'big stone' is 40-ton glacial 'erratic'. Return down hillside and through pleasant oakwood (nature reserve).
---
7. SHANE'S HILL TO GLENARM
distance 13 miles (21km)
Minimum time 6 hours
OS ref 315990 sheet 9
Public transport: Bus from Larne is possible or, using 2 cars, arrange 2 parties -one walking north, the other south.
A good moorland tramp, sometimes boggy, along seaward crest of the Antrim plateau, on the UW throughout, though waymarks sometimes signify a direction rather than a path, so be sure to take OS sheet 9. Features: grouse, meadow pipits (Agnew's Hill), Blackface sheep and catle on the open hills, splendid scarp of Sallagh Braes. Rough stony ground, bracken and whins of Crockandoo ('black hillock') is good nesting territory. Good view from Black Hill of the long rough-walled pastures running down to Glenarm, one of the loveliest of the Antrim glens. Turrets of Glenarm Castle (private) are visible as you descend.
---
8. CARNLOUGH TO WATERFOOT
Distance 8 miles
Minimum time 4 hours
OS ref 287178 sheet 9
Public transport: (bus) or taxi between the two villages, both on A2.
From Carnlough village take the 'waterfall' road marked private. From the defile between Big Trosk and Little Trosk there are fine southerly views. The walk is a designated UW stretch, but with variations on the higher ground to avoid bog underfoot after rain. You cross some remarkably wild country, heathery hills studded with sheep and a great expanse of moor covered in low hummocks before Lough Natullig comes in sight. You may hear larksong. Follow pretty Altmore Burn steeply down beside a narrow gorge, descending to scrubby thorn, oak and rowan woodland among the boulders. Look out for buzzards, kestrels, foxes. Look too for the remains of the old mineral line that once carried iron ore from mines SW of here.
---
9. FAIR HEAD
Distance 2 miles (3km)
Minimum time 1 hour
OS ref 191418 sheet 5
The whole walk is on National Trust land. Use the carpark above Murlough Bay and follow the yellow squares marked on rocks as far as Coolanlough hamlet, then follow yellow circles. On L below is Lough na Cranagh with superb crannog (ancient dwelling on artificial island), its defensive stone wall clearly visible. Small bright flowers embroider the sour peaty soil. Exercise great caution approaching the edge of the headland. Views of Rathlin, Mull of Kintyre and far beyond. Now return to yellow circled trail. Wild goats live on Fair Head. Look out for ravens, buzzards, choughs - and rock doves, staple diet of the peregrine falcon.
---
10. A WALK ALONG THE CAUSEWAY COAST
Distance 11 miles (18km)
Minimum time 6 hours
OS ref 929425 sheet 5
Portballintrae To Ballintoy
There's no more splendid walk anywhere in Ireland for the ordinary pedestrian and it is waymarked almost all the way. Beach road soon gives way to a pleasant path past golflinks and a bridge over the Bush, a fine salmon river. Rocky islet opposite Runkerry House is a salmon netting station, one of many on this coast. Follow cliff-top path to Giant's Causeway Centre, then take the low road to the Grand Causeway and on past strange rock formations and secret bays, including Port na Spaniagh where the Armada treasure ship Girona sank in 1588. Then up Benbane Head via the wooden staircase (a chance here to return along the cliff top). Stride on westwards, losing height gradually, to ruined Dunseverick Castle -capital of the fabulous kingdom of Dalriada - and a potentially useful bus stop if you have walked enough. On now to Portbraddan, with Ireland's tiniest church (12ft x 6-1/2 ft), and blond Whitepark Bay backed by dazzling limestone cliffs. At the E end the track passes between islets of Carricknaford and the old shoreline of a raised beach. Stone Age flints have been found in the sea caves. Ahead lies Ballintoy, with its boat-bobbing harbour and little white church and, after Larrybane visitor centre, an exhilarating walk along the cliffs to the swinging rope bridge that connects Carrick-a-rede island to the mainland.
---
11. BINEVENAGH
Distance 3 miles (5km)
Minimum time 2 hours
OS ref 704317 sheet 4
Easiest approach to Binevenagh is up a lane off the road built by an eccentric 18th-century Bishop of Derry. Shortly after entering the forest there is an obvious entrance just over a bridge, and room to park a car. Beyond the gate go uphill, bearing L always, to emerge on to a hard road and head for the summit of Binevenagh for one of Ulster's finest, widest vistas along the ridge - of Magilligan Strand, Lough Foyle and the hills of Inishowen. Scientists come looking for unusual fossils in the hill streams further round the hill. There is a small artificial lake up here. Pass it on the west side. Then the UW descends NW along the edge of the scarp. Once back in the woods, the path is clear.
---
12. GORTIN GLEN FOREST PARK
Distance 2-1/2 miles (4km)
Minimum time 2 hours
OS ref 485220 sheet 13
Lady's View Walk
The forest drapes itself over the western flank of Mullaghcarn, an outlier of the Sperrins. Several waymarked walks radiate from the main carpark. Join the UW along lovely Pollan Burn, bright with dragonflies, through the forest, which has some huge Sitka spruce well mixed with other species, and come up out on to the bare hill covered with purple bell heather (flowering in July), ling heather (August) and pink-blossomed cross-leaved heath in boggy parts. Look out for Sika deer. When alarmed they utter a sharp terrier-like bark and bound away, flaring a bright white 'petticoat'. After Lady's View forest paths bring you back to the carpark.
---
13. FLORENCE COURT AND CUILCAGH MOUNTAIN
Distance 7 miles (11km)
16 miles (26km) including Cuilcagh
Minimum time 3 hours (7 hours)
OS ref 149341 sheet 26
Boots and warm clothing advised if you are tackling Cuilcagh summit. Start at gated forest track heading east. After crossing 2 streams, at a major junction go up grassy path between young trees towards grey rocks ahead. Beyond stile join gravelly UW path along to big beech trees at the wood's end .(Decision time: route to Cuilcagh summit (2,188 ft, 665 m) is waymarked (yellow painted posts). Our walk suggests an alternative initial approach for circularity. Be ready to turn back if the weather deteriorates. Return same way past ancient burial cairns of Myalla, soon rejoining shorter walk.) Go L along leafy track. Look out for orchids, yellow flag iris, ferns. On down past tiny fields hedged with thorn and briar, reaching the gate on to Marble Arch Road. Recommended side visits: Marble Arch Caves and National Trust mansion of Florence Court.
---
14. LOUGH NAVAR FOREST
Distance 8 miles (13km)
Minimum time 3 hours
OS ref 062583 sheet 17
From carpark on A46 if s an abrupt 600ft (183 m) climb up the wooded scarp from the road to wonderful views of Atlantic, Donegal and the Sperrins. The official UW route heads west briefly, then waltzes off south, unmarked, through deep heather and grass for l/4 mile (0.4 km). See map for less boggy alternative. Follow the UW round the loughs. Look out for hen harrier and russet coloured Irish hares. A sharp descent brings you to natural hardwoods, birch and rowan, at the Sillees river bridge. Continue to the sweathouse. Return to bridge and turn R up scenic drive route to complete circuit.
Useful Contacts
Sports Council for Northern Ireland,
Upper Malone Rd, Belfast BT9 5LA
Tel-(01232) 381222.
Send SAE for list of climbing/mountaineering clubs.
Ulster Federation of Rambling Clubs,
hon. sec. Mary Doyle,
27 Slievegallion Drive,
Belfast BTII 8JN.
Tel- (01232) 624289 (evngs).
Send SAE for members' list
Youth Hostel Association (YHANI),
22 Donegall Rd, Belfast BT12 5JN.Tel- (01232)
324733. Ask about hostels on the Ulster Way.
---
SELF-GUIDED TOWN TRAILS
Bookshops and some tourist information centres sell walking route cards and book. In addition it is worth asking about trail leaflets at forest and country park. Local councils and chambers of commerce produce self-guided town trails for visitors. For example, the following are available locally:
Armagh
Pilgrim's Trail. Details: Tel (01861) 527808
Observatory Grounds Trail.Tel (01861) 522928.
Banbridge Historical Trail. Details:Tel (0182 06) 23322.
Six Belfast City Trails
City centre (4 routes), university area, and Laganside
Tel (01232) 320202.
Carrickfergus
Town Wall Walk: Tel (01960) 366455
Downpatrick, Newcastle, Saintfield
3 Walkabouts Tel- (01396) 612233.
Londonderry
Tour of the Walled City (Derry Tourist Guide) Tel- (01504) 267284
---
GUIDED WALKS
An enjoyable way of getting to know a place is to join an organized walk led by an expert guide. Examples of group walk organized for 1995:
Historic Belfast
April-September. Details:Tel- (01232) 246609.
Historic Ballymena June-August Details:Tel- (01266) 41284.
Walls of Derry, Londonderry
July-August. Details:Tel- (01504) 267284.
Mourne Country
July-August (from Newcastle).Tel- (0139 67) 24059.
Enniskillen Historical Walk
April-September. Tel- (01365) 323110.
Nature Reserves in Fermanagh
July-August Tel- (0136 56) 21588 or (01365) 323110.
National Trust Gardens Guided Walks
Mount Stewart and Rowallane. Tel- (0124 77) 88387 or (01238) 510131.
---
These organizations offer activity breaks with accommodation in hostels, cottages and B & Bs:
Ardclinis Activity Centre, Cushendall.
Tel- (0126 67) 71340. Hill walking in the Antrim Glens with qualified instructors. Short breaks.
Corralea Activity Centre, Belcoo.
Tel- (01365) 386668. Hill walking in Fermanagh with qualified instructor/guide. Holiday breaks.
Out & Out Activities, Belleek.
Tel- (0136 56) 58105. Hill walking in Fermanagh with qualified instructors. Holiday breaks.
Lakeland Country Break, Enniskillen.
Tel- (01365) 323110. Guided walks and accommodation in family homes.
Mourne Farm & Country Holidays, Kilkeel.
Tel- (0169 37) 62426. Accommodation and walking in the Mournes.
---
These hotels and guesthouses offer short holiday breaks with walkers in mind. They recommend routes and provide packed lunches and maps. Enquire about guided walks.
Burrendale Hotel & Country Club, Newcastle.
Tel- (0139 67) 22599.
Glassdrumman Lodge, Annalong.
Tel- (0139 67) 68451.
Hilsea Guesthouse, Ballycastle.
Tel- (0126 57) 62385.
Kilmorey Arms Hotel, Kilkeel.
Tel- (0169 37) 62220.
Londonderry Arms Hotel, Carnlough.
Tel- (01574) 885255.
Mahon's Hotel, Irvinestown.
Tel- (0136 56) 21656.
Manor House Country Hotel, Killadeas, Enniskillen.
Tel-(0136 56) 21561
---
Northern Ireland Homepage | Travel Tips | Golf | Industrial Heritage | Walking, Hiking & Horseback | Activities | Calendar of Events | Transportation | Cuisine and Restaurants | Birdwatching | Fishing | Ancestral Heritage | County Antrim | County Armagh | City of Belfast | County Down | County Fermanagh | County Londonderry | County Tyrone | Tour Operators | InterKnowledge Home Page
---
Copyright (c) 1995-1997 interKnowledge Corp. All rights reserved.