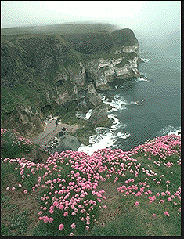 The marine drive north from Larne, and then west past the Giant's Causeway to the resort of Portrush, follows 60 miles of the most beautiful coast you could imagine.
The first 28 miles were blasted out from the chalky cliffs in 1834. Soon after, when the road was opened right round to Ballycastle, all nine glens suddenly became accessible and the farmers could get to market. The road passes by the foot of each of the glens. If you resist the temptation to turn inland, and stay instead with the road and the sea breezes, a splendid marine drive lies ahead.
Each of the coastal villages has a distinctive character. The castle at Glenarm is the home of the Earls of Antrim, and Carnlough has a famous inn which was once owned by Winston Churchill. The red curfew tower in the middle of Cushendall was built in 1809 as 'a place of confinement for idlers and rioters', and the National Trust village of Cushendun has pretty Cornish cottages and a beautiful beach. The road runs under bridges and arches, passing bays, sandy beaches, harbours and strange rock formations. As you turn Ulster's top right-hand corner, the green crescent of Murlough Bay comes into sight before the climb to the eerie tableland of Fair Head, and a bird's eye view of Rathlin Island.
From one of these harbours, it's said, sorrowful Deirdre and the sons of Uisneach embarked for Scotland to escape the wrath of King Conor.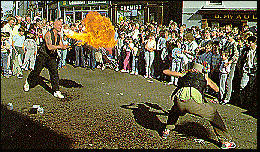 Oul' Lammas Fair, Ballycastle: fire-eater at work
The biggest annual event is the Oul' Lammas Fair in Ballycastle. In the old days it lasted a week when there was plenty of match-making as well as horse-trading. Today the fun is packed into two hectic days at the end of August.
Exploring County Antrim | Giant Causeway | The Castles of Dunluce & Carickfergus |
The Glens of Antrim |
---
Northern Ireland Homepage | Travel Tips | Golf | Industrial Heritage | Walking, Hiking & Horseback | Activities | Calendar of Events | Transportation | Cuisine and Restaurants | Birdwatching | Fishing | Ancestral Heritage | County Antrim | County Armagh | City of Belfast | County Down | County Fermanagh | County Londonderry | County Tyrone | Tour Operators | Geographia Home Page
---
Copyright (c) 1995-1997 interKnowledge Corp. All rights reserved.