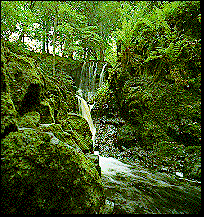 Each of these nine green valleys has a character of its own. Together they form a beautiful realm of rivers, waterfalls, wild flowers and birds.
But 150 years ago, the remoteness of the Glens was daunting. Rushing rivers bisected the land from west to east and the inland track from Cushendun to Ballycastle crossed Loughareerma, 'the vanishing lake'. One day it was empty, the next day it was full of water! It was not unknown for coach horses to gallop into this watery grave, taking the passengers with them.
Physical isolation and intimacy with elemental beauty have left the Glens with a great store of Irish myth and legend.
For the most part, the people are the descendants of both the ancient Irish and their cousins the Hebridean Scots across the narrow Sea of Moyle, and the Glens were one of the last places in Northern Ireland where Gaelic was spoken. The names of the glens, from south to north, are: Glenarm, Glencloy, Glenariff, Glenballyeamon, Glenaan, Glencorp, Glendun, Glenshesk and Glentaisie.
Their meanings are not known for certain but the popular translations are: glen of the army, glen of the hedges, ploughman's glen, Edwardstown glen, glen of the rush lights, glen of the slaughter, brown glen, sedgy glen, and Taisie's glen. In legend Taisie was a princess of Rathlin Island.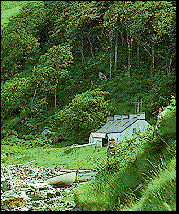 'Up the airy mountain
Down the rushy glen,
We daren't go a-hunting
For fear of little men'
Glens folk are great storytellers. They will tell you that the main haunts of the 'wee folk' - the 'gentle' (supernatural) places - are Lurigethan mountain and Tiveragh Hill. Mischievous creatures at the best of times, the fairies are said to take devastating revenge on anyone rash enough to cut down a fairy thorn.
Exploring County Antrim | Giant Causeway | The Castles of Dunluce & Carickfergus
| The Glens of Antrim |
---
Northern Ireland Homepage | Travel Tips | Golf | Industrial Heritage | Walking, Hiking & Horseback | Activities | Calendar of Events | Transportation | Cuisine and Restaurants | Birdwatching | Fishing | Ancestral Heritage | County Antrim | County Armagh | City of Belfast | County Down | County Fermanagh | County Londonderry | County Tyrone | Tour Operators | Geographia Home Page
---
Copyright (c) 1995-1997 interKnowledge Corp. All rights reserved.