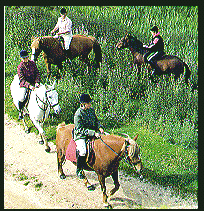 Carrickfergus Castle:
On the shores of Belfast Lough stands this impressive Anglo-Norman castle, built in 1180. Medieval banquets, a fair and a crafts market are staged here in the summer. Price: about US$4.30.

---
The haunting ruins of this castle, just east of Portrush, date to the 16th and 17th centuries. It teeters on the edge of a rocky headland, thanks to a violent storm in 1639 that caused a portion of the castle's kitchen, along with cooks and cookware, to tumble into the sea. It was the main fort of the Irish MacDonnells, chiefs of Antrim. Tours of the castle are offered regularly in the summer. Price: about US$2.40.

---
Dunluce Centre:
This entertainment complex opened in 1993 with a multimedia show that relates the legends, myths and folklore of the North Coast, a hands-on nature display and an indoor giant-screen film/ride with synchronized seat movements. Price: about US$6.40.

---
This mass of some 40,000 basalt columns descending from the headlands into the sea has been Northern Ireland's most popular attraction for at least 300 years. A visitors' center explains the causeway's geological and mythical origins. Price: Exhibit and 25-minute audio-visual show: about US$1.60.

---
The 'queen of the glens', with a series of waterfalls plunging down through a gorge traversed by a path crossing rustic bridges. One cascade has the name 'tears of the mountain'. The park is also a national nature reserve with easy access to a caravan and camp site. There is a wonderful view from the visitor centre down the glen which Thackeray described as a 'Switzerland in miniature'. Price: about US$3.50 per car.
---
Irish Linen Centre & Lisburn Museum:
Ulster's greatest industry is re-created here, with a weaving workshop with hand looms, and audiovisuals. Also includes a restaurant. Price: about US$4; families, about US$9.60.

---
Old Bushmills Distillery:
The village of Bushmills, just a few miles southwest of Giant's Causeway, is the site of the world's oldest legal whiskey distillery, established in 1608. Tours of the Old Bushmills Distillery detail the distilling process, with samples of its product and a gift shop. Price: about US$3.20.
Exploring County Antrim | Giant Causeway | The Castles of Dunluce & Carickfergus |
The Glens of Antrim |
---
Northern Ireland Homepage | Travel Tips | Golf | Industrial Heritage | Walking, Hiking & Horseback | Activities | Calendar of Events | Transportation | Cuisine and Restaurants | Birdwatching | Fishing | Ancestral Heritage | County Antrim | County Armagh | City of Belfast | County Down | County Fermanagh | County Londonderry | County Tyrone | Tour Operators | InterKnowledge Home Page
---
Copyright (c) 1995-1997 interKnowledge Corp. All rights reserved.