'Where the Mountains - o' Mourne sweep down to the sea'

The popular song has made the Mournes the best known mountains in Ireland. Distinctive and self-contained, they are tucked away in the south-east corner of Northern Ireland, with 12 shapely summits rising above 2,000 ft on the eastern side.
The barren peak of Slieve Donard, climbing steeply to 2,796 ft, dominates the mysterious blue distance of the landscape. It's an afternoon's climb from the catpark at Bloody Bridge near the holiday resort of Newcastle. From the top you can see the Isle of Man and the full length of Strangford Lough. To the north-west lies the pale line of Lough Neagh, a vast inland sea covering 153 square miles, famous for its eels, an Ulster delicacy. Hundreds of tons of eels are exported each year.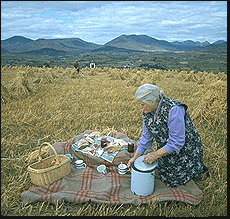 The coast frorn Newcastle round to Greencastle hamlet was notorious for smuggling in the 18th century. Old coastguard lookout points recall the time when liquor and tobacco, tea, silk and soap were landed by boat from the Isle of Man and spirited away along the Brandy Pad and other smugglers' trails through the mountains. The two big artificial lakes in the Silent Valley that supply Belfast's water are surrounded by a huge dry stone wall over 22 miles long. At Newcastle itself there is yachting and pleasure fishing from the old harbour, golf at Royal County Down, and walks in the sand dunes of Murlough.
For a very scenic drive to Newcastle, visitors coming north on the Dublin-Belfast road should turn east at Newry on to the A2 which runs along the north shore of Carlingsford Lough between the mountains and the sea.
County Down Overview | Exploring County Down | Ards Peninsula | Mourne Mountains |
St. Patrick's Country |
---
Northern Ireland Homepage | Travel Tips | Golf | Industrial Heritage | Walking, Hiking & Horseback | Activities | Calendar of Events | Transportation | Cuisine and Restaurants | Birdwatching | Fishing | Ancestral Heritage | County Antrim | County Armagh | City of Belfast | County Down | County Fermanagh | County Londonderry | County Tyrone | Tour Operators | InterKnowledge Home Page
---
Copyright (c) 1995-1997 interKnowledge Corp. All rights reserved.