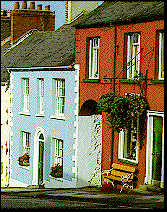 Hillsborough - 10 miles south of Belfast - is one of Ulster's most delightful small towns. It grew up round the fort that Colonel Arthur Hill built in 1650 to command the road from Dublin to Carrickfergus.
The first Hill arrived in Ireland as an officer in the army of the Earl of Essex sent by Elizabeth I to subdue the rebellious O'Neill. He stayed on, married the sister of Sorley Boy MacDonnell and never looked back.
From the ramparts of the fort, which was remodeled in the 18th century, there are views over the park's beautiful artificial lake and across to the elegant parish church. With stained glass by Joshua Reynolds and a memorial by Nollekens, the church's other glories are two magnificent 18th century organs. Hamilton Harty (1879-1941), the brilliant interpreter of romantic music - 'The Irish Toscanini' - is buried in the graveyard. He was born in Hillsborough and his father was church organist here for 40 years.
Across the square, with its pretty market house and fine Georgian townhouses, you can see the former Government House through a pair of splendid wrought iron gates brought here from Richhill Castle in county Armagh. The mansion is now used on ceremonial occasions and for garden parties.
Carrickfergus - The town has a notable Elizabethan parish church, with a marble and alabaster monument to Arthur Chichester who, among other things, was governor of Carrickfergus and landlord of Belfast.
The parents of American President Jackson (1829-37) emigrated from here in 1765. The Andrew Jackson Centre, a thatched cottage close to their original home beyond the north end of the promenade, traces the family's history. Jonathan Swift, who wrote Gulliver's Travels, was prebendary of a church near here.
Carrickfergus Castle, a massive keep to guard the approach to Belfast Lough was the first real Irish castle - built in 1180.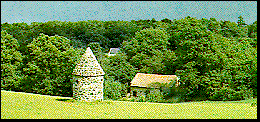 Watch Tower
Wander into Ireland's vernacular past at the Ulster Folk & Transport Museum near Belfast. You can watch horse ploughing and thatching and walk among farmhouses, mills, churches and whole terraces of 19th-century houses, all saved from the bulldozer's path and moved here. There are rural schools, a forge, and a small conical hut where the watchman sat with his musket guarding linen laid out on the green to bleach in the sun. A highlight is the Irish Railway Collection. Housed in a gallery built in the style of a Victorian railway station, the collection details 150 years of Irish railway history, and includes railcars and locomotives. Price: about US$4.80.
City of Belfast Overview | Exploring Belfast | Belfast Entertainment | Around Belfast
---
Northern Ireland Homepage | Travel Tips | Golf | Industrial Heritage | Walking, Hiking & Horseback | Activities | Calendar of Events | Transportation | Cuisine and Restaurants | Birdwatching | Fishing | Ancestral Heritage | County Antrim | County Armagh | City of Belfast | County Down | County Fermanagh | County Londonderry | County Tyrone | Tour Operators | InterKnowledge Home Page
---
Copyright (c) 1995-1997 interKnowledge Corp. All rights reserved.