Theatres and Concert Halls:
Grand Opera House - everything from panto to opera.
Belfast Civic Arts Theatre - popular shows, comedies, musicals.
Lyric Theatre - Irish plays, new plays, international theatre.
Group Theatre - home and local dramatic societies.
Old Museum Arts Centre - new plays, fringe theatre.
Golden Thread Theatre - new plays, community plays.
Ulster Hall - everything musical from rock to organ recitals.
Whitla Hall, Queen's University - concerts, recitals, occasional dramatic and operatic performances.
King's Hall - large-scale exhibitions, superstar concerts.
Cinemas:
Belfast's cinemas include the MGM Multiplex (Dublin Rd), Curzon (Ormeau Rd), Strand (Holywood Rd), Yorkgate Movie House (York St), Cineworld (Kennedy Centre) and the Movie House (Glengormley). The Queen's Film Theatre, attached to the university, shows art and foreign language films. For cinema programmes see the local press.
---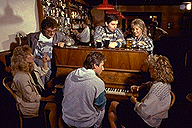 Musical Pubs:
Pubs are good places to hear live music - traditional, folk, jazz, blues and rock.
Around the city centre:
Duke of York off Lower Donegall St,
Kitchen Bar Victoria Square,
Front Page Donegall St,
Kelly's Cellars Bank St,
Frames Too Little Donegall St,
Maddens in Smithfield.
Morrisons, Opposite the BBC in Bedford St
The Errigle Inn is on the Ormeau Rd running south from the city.
Atmospheric docks pubs are Pat's Bar Prince's Dock St,
Rotterdam Pilot St,
Muldoon's Bar Corporation Square,
Liverpool Bar Donegall Quay.
Be sure to check out the Belfast Pub Walking Tours. There are three to choose from and each is escorted by a guide. Each tour lasts approximately two hours and leaves from: NITB Tourist Information Centre, 59 North Street in Belfast at 2:00pm each Saturday.
The admission price is approx US$8.00 exclusive of any beverages.
---
Art Galleries:
Ulster Museum - includes paintings by Sir John Lavery, Andrew Nicholl and William Conor - all Belfast born.
Arts Council Gallery (56 Dublin Rd) - contemporary art, bookshop.
Bell Gallery (13 Adelaide Pk) - Irish artists, graphics.
Tom Caldwell Gallery (40 Bradbury Place) - living Irish artists.
Cavehill Gallery (18 Old Cavehill Rd)- living Irish artists.
Crescent Arts Centre (University Rd) - contemporary exhibitions, craft demonstrations.
Eakin Gallery (237 Lisburn Rd) - established Irish artists.
Emer Gallery (88 Great Victoria St) - Irish artists.
Kerlin Gallery (134 University Ave) - modern artists.
Magee Gallery (455 Ormeau Rd) - established painters.
City of Belfast Overview | Exploring Belfast | Belfast Entertainment | Around Belfast
---
Northern Ireland Homepage | Travel Tips | Golf | Industrial Heritage | Walking, Hiking & Horseback | Activities | Calendar of Events | Transportation | Cuisine and Restaurants | Birdwatching | Fishing | Ancestral Heritage | County Antrim | County Armagh | City of Belfast | County Down | County Fermanagh | County Londonderry | County Tyrone | Tour Operators | InterKnowledge Home Page
---