Wat Chayamangkalaram Temple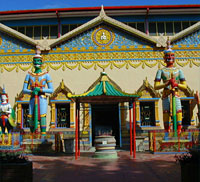 This Buddhist temple of Thai architecture houses a magnificent gold-plated reclining Buddha that is said to be the third largest in the world. The niches behind the statue house urns containing the ashes of devotees. Admission is free.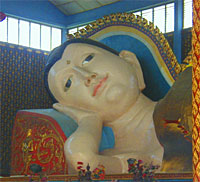 The Reclining Buddha

Snake Temple
Probably the only temple of its kind in the world. The multitude of pit vipers coiled around objects on the altar are believed to be rendered harmless by the smoke of the burning incense in the temple. Just for good measure, the snakes have also been devenomed. Admission is free; bravery should be obtained in advance.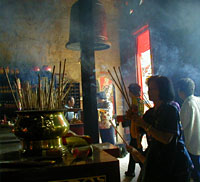 Kek Lok Si
Kek Lok Si is reputedly the largest Buddhist temple complex in South-East Asia. The temple is also widely-known for the beauty of its design, which incorporates elements of Chinese, Thai, and Burmese architecture. Kek Lok Si is dominated by the seven-tiered pagoda of Ban Po Thar, which is dedicated to the Boddhisattva Tsi Tsuang Wang, who declined to enter nirvana after enlightenment in order that he might assist others along the path.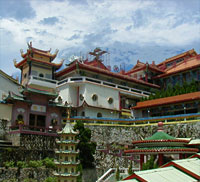 St George's Church
Built with convict labor in 1818, this stately Anglican colonial church is one of the oldest landmarks in the city. The entrance features a memorial canopy dedicated to Captain Francis Light, who is buried in the adjoining ceremony.
Sri Mariamman Temple
This Hindi temple, built in the late nineteenth century, features fascinating sculptures of gods and goddesses over its entrance and on its facade. Housed within its ornately decorated interior is a priceless statue of Lord Subramaniam, embellished with gold, silver, diamonds, and emeralds. The statue figures prominently in the annual Thaipusam Festival, when it is borne on a silver chariot through the city streets to the temple at Jalan Waterfall. Opening Hours: Morning to late evening. Permission to enter must be obtained from temple officials.