Major Holidays:
Christmas
New Year's Day
Hari Raya Puasa
Thaipusam
Chinese New Year
Wesak Day
Kaamatan Festival
Gawai Festival
Festival of San Pedro
Flora Festival
Malaysia Festival
Mooncake Festival
Deepavali

Gawai Festival in Sarawak (end May or early June)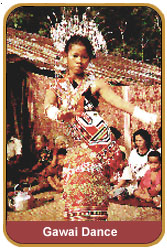 The Ibans and Bidayuhs of Sarawak celebrate the end of padi harvesting season with much merry-making, dancing and the drinking of tuak, a potent rice wine. A fascinating Gawai dance is the Ngajat Lesong. A dancer displays his strength and skill by lifting the lesong (the mortar where padi is pounded) with his teeth.
Home | Places | People | History | Nature | Activities | Fun | Essentials | Calendar