Major Holidays:
Christmas
New Year's Day
Hari Raya Puasa
Thaipusam
Chinese New Year
Wesak Day
Kaamatan Festival
Gawai Festival
Festival of San Pedro
Flora Festival
Malaysia Festival
Mooncake Festival
Deepavali

Malaysia Fest (September)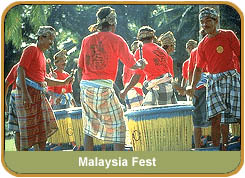 Pesta Malaysia, or Malaysia Fest, is a two-week affair held in September of every year. First held in 1987. it aims to create awareness and appreciation of Malaysian culture, craft and cuisine. This is one of the best times to make your journey to Malaysia if you are a new visitor. All the thirteen states of Malaysia participate in the event, which is held in Kuala Lumpur. Among the programs and activities visitors can look forward to will be cultural shows, demonstrations of the beautiful Malaysian handicrafts, and cuisine of the thirteen states. Streets are strung with lights, while shopping complexes and hotels compete for awards in creative light decorations. If you can only make it to one festival, this is the one to aim for.
Home | Places | People | History | Nature | Activities | Fun | Essentials | Calendar