Major Holidays:
Christmas
New Year's Day
Hari Raya Puasa
Thaipusam
Chinese New Year
Wesak Day
Kaamatan Festival
Gawai Festival
Festival of San Pedro
Flora Festival
Malaysia Festival
Mooncake Festival
Deepavali

Thaipusam (late January or early February)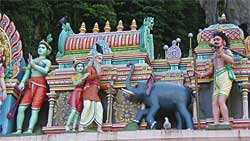 The Entrance of the Batu Caves
Thaipusam, a day of consecration to the Hindu deity, Lord Murugan, sometimes also called Lord Subramaniam. A feature of the festival is the carrying of a kavadi, a frame decorated with colored papers, tinsels, fresh flowers, and fruits as a form of penance. In Kuala Lumpur, Hindus carrying the kavadi make the annual pilgrimage to the Batu Caves in Selangor, where the kavadi is carried up the 272 steps to the entrance of the great cave and deposited at the feet of the deity.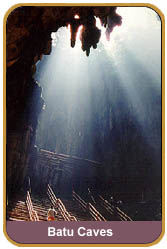 On the eve of Thaipusam, the grounds of Batu Caves are transformed into a fairyland of lights. Kavadi-carrying begins after sunset. Devotees and penitents carry Kavadis, which are gaily decorated wooden or steel paraphernalia. Some have entered a trance, and pierced their cheeks, tongues, or foreheads. The next day they will return to their ordinary lives, cleansed. Open-door observers of the kavadi do not have to participate in this ritual unless they really, really want to. Apart from the mortification of flesh, other forms of devotion are practiced, such as honey or milk offerings.
Home | Places | People | History | Nature | Activities | Fun | Essentials | Calendar