Major Holidays:
Christmas
New Year's Day
Hari Raya Puasa
Thaipusam
Chinese New Year
Wesak Day
Kaamatan Festival
Gawai Festival
Festival of San Pedro
Flora Festival
Malaysia Festival
Mooncake Festival
Deepavali

Flora Fest (July)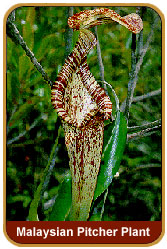 Malaysia, with year-round sunshine and high humidity, provides the ideal climatic conditions for a rich plant life, amongst them a profusion of flowering species. Every year, in July, the Flora Fest is held to celebrate the beauty of Malaysia's blooms through various floral-themed events and competitions.
The week-long festival culminates in a spectacular Floral Parade, whereby flower-bedecked animated floats will make their way through the main streets of Kuala Lumpur, accompanied by marching bands, equestrian units and dance troupes.
Home | Places | People | History | Nature | Activities | Fun | Essentials | Calendar