The major objectives of the program are:
1) To foster communication and exchange of ideas of people from foreign lands with a view of improving individual understanding of our country and its culture.
2) To advance the cause of international friendship and engender a spirit of amiableness.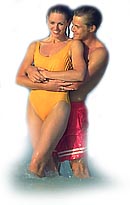 How to participate in the program:
Register by submitting an application form, either individually or as a group:
1) upon arrival in Freeport, at one of the Tourism booths, located at the Airport, Harbour, Port Lucaya Marketplace, and the International Bazaar;
2) at the Social Host/Hostess desk at your hotel;
3) at the Grand Bahama Island Tourism Board:
People-to-People Department
P.O. Box F-40251
Freeport, Grand Bahama Island Tel: 242-352-8044
Fax: 242-352-2714
E-mail: tkemp@gbitb.com or vrussell@gbitb.com
People-to-People Encounter Program:

The People-to-People Program is a community involvement venture that brings visitors and Bahamian residents together on a one-to-one basis. This on-shore promotional program was inaugurated by The Bahamas Ministry of Tourism in Nassau, New Providence, in 1975 and was extended to Freeport, Grand Bahama Island, in 1976. Those involved in the program are principally volunteers, visitors and social hostesses of our hotels.

Over two hundred "People to People Volunteers" have agreed to act as personal hosts to visitors in Grand Bahama Island. They come from a cross section of the community, and have been screened by People-to-People executives. These individuals are not employed by the Grand Bahama Island Tourism Board, nor are they subsidized in any way. They genuinely enjoy meeting people from other countries; they want to make visitors feel at home; and they want to contribute to the development of tourism in The Islands of The Bahamas.

Personnel of the Tourism Board are responsible for matching visitors and volunteers according to their ages, hobbies, interests and occupations. The volunteers are then responsible for collecting their guests from an agreed location at a mutually convenient time. As most volunteer work, hosting is frequently arranged for after 5:30 p.m. or on weekends. The duration and manner of the subsequent encounter is left entirely to the volunteers and visitors. Visitors do not live with volunteers and participation in the program is complimentary. Emphasis is placed on the fact that the program is not a dating agency.

Not everyone would be interested in delving into the history, folklore and culture of the country, but for those who are so minded, the People-to-People Program provides a rare opportunity for them to meet indigenous Grand Bahamians and residents to enjoy a truly enriching experience. Your host might invite you to share an evening of pleasant conversation, or join in the fun at a family gathering or worship with them at church.

Visitors may also join hosts at a social or service club, perhaps like one that they belong to at home, and share experiences that the average visitor might never see or hear about. In addition, their children could also compare notes on the differences in culture.

Another component of People-to-People is the Pen Pal Program, which enables people from other lands to bridge friendship through international communication.

Travel agents and travel writers also participate in the program to learn more about our island's greatest asset -- the Bahamian people -- and are encouraged to generate publicity for the program.

We have received numerous favorable comments and thousands of visitors referred to their participation in the program as being the highlight of their visit to Grand Bahama Island. When they leave, they take with them not only memories of a wonderful vacation, but a mutually enriching "People-to-People" experience.