COPENHAGEN and NORTH SEALAND
JUTLAND | BORNHOLM

FYN (Funen) & the Islands
Odense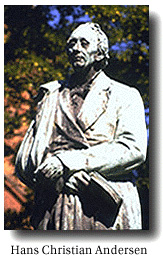 Over a thousand years old, Odense is an attractive and lively city full of open areas, offering an ideal center for holidays. It has a leisurely, relaxed atmosphere and lots of music and culture, and it is the capital of the island of Fyn (Funen.)
The city is people-friendly - extensive pedestrian streets, squares and alleys lead to museums, cafes, shops and restaurants. A wealth of cycle paths make it easy for biking tourist to get around.
There are museums to Hans Christian Andersen and Carl Nielsen, both world famous sons of Fyn. Brandts Klædefabrik houses several museums such as the Danish Museum of Printing and the Museum of Photographic Art, and it also has frequently changing exhibitions of modern and unusual art in Kunsthallen.
Children can have fun at the Odense Zoo or sail on the Odense River. In The Funen Village they can see what life was like a century ago - and visit the Railway Museum, which has new and old, real and model trains.
Every summer, from late June to early August, there are all kinds of events and activities for example, a jazz festival, plays staged at the Funen Village and at the Hans Christian Andersen Museum lots of outdoor concerts in the parks and squares. The high point of summer is the Hans Christian Anderson Festival, July 16-August 10.
Attractions:
HANS CHRISTIAN ANDERSEN'S MUSEUM in ODENSE. This famous fairy tale writer was born in Odense in 1805, and his birth place is the top attraction in town It is located in a district of period houses which have been renovated and are still lived in.
EGESKOV CASTLE, KVÆRNDRUP. A beautiful, moated Renaissance castle, built in 1554. Set in a park which also contains a maze. Open to the public at certain times. Five museums are on the premises, including one devoted to vintage cars.
ÆRØSKØBING, ISLAND of ÆRØ, south of FYN. Ferries crossing through the South Funen Archipelago take visitors to this charming town with cobbled streets and small, neat houses, one of them housing a Bottle Ship Collection.
---
Copyright 1997 - 2005 InterKnowledge Corp
all rights reserved