---
Selected Regions:
---
SHOPPING | RESTAURANTS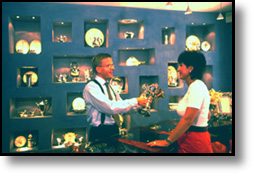 Denmark has set the pace for modern design the world over. High quality cutlery, china, sports equipment, textiles, knitwear, knitting wool, handicrafts, furs, crystal, jewellery, silver, glassware, pewter, pottery, carved wood, furniture and even hi-fi stereo equipment bear the hallmark of quality Danish craftsmanship. Choices of things to buy in Denmark run the gamut from under-a-dollar souvenirs to one-of-a-kind furs.
In Denmark, a value-added tax is always included in the purchase price. Overseas visitors are entitled to a refund of 20%, less a handling fee of 5%, off the price of goods purchased for more than DKK 300/USD 55 at a single store participating in the tax-free plan. The refund procedure is easy. Fill out the tax-free slip provided by the shop, present it to the custom authorities at the airport before check in and the tax is refunded to you in cash upon departure from Denmark.
Royal Copenhagen: Visit the world's finest largest porcelain establishment. See the famous Flora Danica dinner service and enjoy the hand-painted figurines and vases. Some of the porcelain on display has been in production for centuries while other pieces are the latest work of a new generation of dynamic Danish artists and designers.

Royal Copenhagen Cristal: Admire the magic of fine glass and crystal making, which is tempting to anyone who appreciates true beauty. Enjoy the collection, on the ground floor, crafted by Danish and international artists and designers.
Georg Jensen: On the ground floor you will find Georg Jensen's unique pieces of jewelry and watches. Located upstairs is a selection of silverware and cutlery that will charm you.

Illums Bolighus: On four floors of inspiring displays you will find only the very finest in exquisite kitchenware, tableware, lamps, carpets, textiles and furniture. Fashion and accessories for women and men.

Restaurants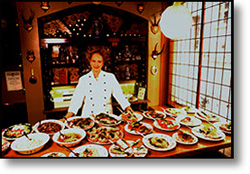 It's lunchtime in Copenhagen, and on a warm day there's no better place to park yourself than an outdoor cafe. Try our smørrebrød, open-face sandwiches with a variety of toppings (fried plaice, marinated herring, smoked eel, tiny sweet shrimp, roast beef, cheese, and much more) served with a thin layer of butter on dark rye bread, nutty black bread, or soft French bread, and eaten with a knife and fork. It's traditional to begin with seafood, move on to meat, and end with cheese.
Wash it all down with a Carlsberg or Tuborg beer, and perhaps a chaser of Danish snaps, or aquavit. Served ice cold, it's still fiery hot. To toast, be it with beer, snaps, or wine, we Danes raise our glasses, lock eyes, say "Skål," sip, hold the gaze, then lower our glasses. The custom harks back to Viking times.
Restaurant Tips:
Expect to pay the following
for meals in Denmark:
Breakfast: USD 6-20
Lunch: USD 7-25
Dinner: from USD 11.
Breakfast is usually included
in hotel rates.
Tipping: service
charges are automatically
added to the hotel and res-
taurant bill in Denmark, so
no further tipping is required.
Tipping for outstanding ser-
vice is a matter of choice,
but is not expected. Tips for
Taxi drivers are included in
the fare.
At dinnertime, you can duck into a small restaurant for "Dagens Ret", the economical daily special. Expect stick-to-your-ribs fare like meat-and-potato hash; fried cakes with pork, egg, and onions (frikadeller); or Danish meatballs and red cabbage, all served in ample portions.
Or pull out all the stops and splurge on a modern-day Babette's Feast: fresh fish and seafood (including herring and Scandinavian salmon), free-range chicken, beef and pork from Jutland, pheasants, and roast duck, as well as our incomparable Danish cheeses and sweet butter.
The perfect backdrop for such a scene is Restaurant Wiinblad in the historic d'Angleterre Hotel, where everything from the tiled walls to the plates was designed by the well-known Danish artist Bjørn Wiinblad. Expect a glowing candle on each table (candlesticks courtesy of Wiinblad). Danes love candles so much that they burn them even at breakfast.
Hungry for a sweet? Our Old World cafes, called conditories, serve coffee, tea, cakes, and devilishly tempting pastries. You may call them "Danish," but they're "Vienna bread" to us!
---
Copyright 1997 - 2005 InterKnowledge Corp
all rights reserved