AIRLINES | BUSES | CARS | RAIL | SHIPS
Car Travel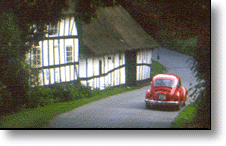 Although Denmark consists mainly of islands, its bridges and ferries connect them to make car travel easy and pleasant. Car ferry fares are reasonable, and all bridges and highways are free. Road signs are excellent and even back roads are asphalted. Seat belts must be used by the driver and all passengers. Headlights are obligatory day and night. Children must be strapped with some kind of safety device, the youngest in a baby chair, those between ages 3 and 7 in a children's chair or on a seat cushion. Children under 3 are not permitted in a front seat unless they are seated in a special baby chair that fits them.
Car Rentals
Avis, Eurodollar Rent a Car, Hertz, National/Europcar/Interrent have offices in major Danish cities and at airports. Rental rates range from USD 73-293 per day depending on make and period. Icelandair car rental offers special Ice-saver rates in the summer from USD 470 (winter rate from USD 357) per week including unlimited mileage and VAT. A special Fly-Drive arrangement is also available from New York and Baltimore with Icelandair. In Denmark pay from USD 389 for 3 days based on two people traveling together, with unlimited mileage, including value added tax and insurance but excluding gas. When booking a rail or air ticket to/in Denmark you can book a car at the same time. Some companies will rent cars only to persons over ages 18-28. Most Danish companies require credit card payment from foreign clients. A valid driver's license is also required.
---
Car Rental Companies
Name
Phone

Fax

Auto Europe
CRS-Access Code: ZU

(207) 828-2525 or
(800) 223-5555 (US)

(800) 235-6321

Avis

(800) 331-1212

--

Eurodollar Rent a Car

(310) 410-2627
(800) 800-6000 Res.

(310) 410-2634

National/Europcar/Interrent

(612) 830-2121
(800) 227-3876
(800) CAR-RENT

(612) 830-2242

Hertz Corporation

(800) 654-3001

--

Icelandair

(800) 757-EURO

(410) 715-3547

The Kemwel Group Inc.

(800) 678-0678

(914) 835-5449

Thrifty Rent-A-Car System Inc.

(800) 367-2277

(918) 669-2213
---

Drinking and Driving
The penalties for driving under the influence of alcohol are very severe and no exception is made for foreign visitors. Alcohol tests are frequently given without advance warning, and test limits are more stringent than those in the U.S. and Canada.
Driver's License
A North American license is valid in Denmark, but you have to be 18 years or older.
Gas Rates
Gasoline rates are always given by the liter (1 gallon = 3.79 liters). Most gas stations are self-service, open 7 days a week from 8 am to 10 pm. Most stations have self-service pumps that are in service 24 hours a day and accept paper currency as payment. Foreign credit cards cannot be used at automatic pumps. They may be used as payment at terminals or to an attendant.
Motor Home Rentals
Motor homes can be rented for about USD 73-224 per day. For information and bookings, contact:
Rafco Car Rental & Motorhomes
Rafco A/S Englandsvej 380
DK-2770 Kastrup/Copenhagen
Tel.: 45-32511500; Fax: 45-325110 89
E-mail: rafco@dk-online.dk
Free airport shuttle
In Denmark local tourist offices can refer you to rental companies.
---
Copyright 1997 - 2005 InterKnowledge Corp
all rights reserved