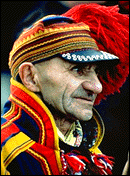 A Sami man in
native dress.
(STTC).


Land of the Midnight Sun
Travel to northern Sweden is an adventurous, exotic experience. The landscape is wild and vast. Mountains, valleys, lakes, and streams come together with Mother Nature to make this place a destination like no other. It is, after all, the last wilderness of Europe.
In the area above the Arctic Circle, the sun never sets from May until mid-July--all the more time to play! Winter, in contrast, brings the stunning display of northern lights across the night sky. All types of skiing and snow activities abound in this region during the winter months. It is here that the Sami (Lapp) people work to keep their culture alive, herding reindeer for a living.
Major Attractions:
Abisko and Sarek National Parks
These expansive parks offer visitors some of the wildest and most entrancing wilderness in Europe. Abisko, which encompasses 18,500 acres and has 2,703 miles of hiking and skiing trails, is particularly favored by hikers of all fitness and skill levels for its diverse offerings. Its tourist station includes a small complex of chalets, plus a modest hotel, restaurant, and provisions store. From here, visitors can ride a gondola to the magnificent prospect of Njulla Mountain, do a simple day's excursion along one of the many trails that encircle Lapporten mountain, or embark upon a week-long trek along the King's Trail, a well-marked trail that follows the birch-clad banks of the Abiskojokk River southward for 300 miles.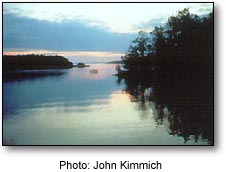 Sarek National Park is more rugged, having no roads, marked trails, or tourist stations. With 100 glaciers and six peaks above 2,000 meters, it is and ideal region for die-hard backpackers and mountain trekkers. The varied landscape also includes some major rivers, and game such as bears, lynx, wolverines, and Arctic foxes.
Kebnekaise
Sweden's highest mountain, 6,936 feet above sea level.
Jukkasjärvi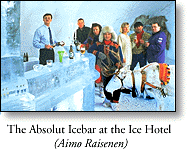 Home of the world's largest igloo, the Jukkasjärvi Ice Hotel. Each fall, as the Arctic temperatures plummet, the Laplanders rebuild this celebrated igloo from 1,000 tons of ice and 2,000 tons of snow. Inside, it houses a church, hotel, gallery, golf room, cinema, and a bar--named, appropriately enough, the "Absolut Ice." Guests sleep in warm sleeping bags on mattresses of spruce boughs and reindeer skins. Temperatures average 25 ºF. In addition to the novel accommodations, there is hearty, delicious fare to be had and plenty of things to do--including dog-sledding, skiing, helicopter rides, snowmobiling, and overnight wilderness camping. If you prefer warmer accommodations, there are also plenty of "regular hotels" nearby too, though you'll miss out on the certificate of survival the hotel hands out the next morning.
Riksgränsen & Björkliden
Situated in the Kiruna mountains of Lapland. From mid-May to early June, the weather is warm enough that you can ski in your ski trunks, and the Midnight Sun makes for great night skiing. Sweden's northernmost golf course is located here.
Arvidsjaur
A Lapp (Sami) center and a popular tourist destination, along with Lapstaden, a 300-year old Lapp village. The Sami people's own tourism organization, Sita Sameland, organizes a wide array of activities and excursions. Cycle-trolley riding on obsolete railway tracks and whitewater rafting are among the activities awaiting the adventurous.
Jokkmokk
In Jokkmokk you are within easy reach of four magnificent national parks. A unique exhibition in Vuollerim takes you back 6,000 years. And don't miss the fascinating power station museum at Porjus or the opportunity to purchase Lapp handicrafts. The Great Sami Winter Fair is held here in February.
Jämtland & Härjedalen
This area is a true paradise for skiers and snow-boarders in the winter. Many ski resorts are located in this area, such as the Åre Mountain Ski Resorts with Åreskutan (4,200 ft. high and a vertical drop of 3,000 ft.), as well as 89 other groomed slopes for all types of skiing. In the summer, the mountains offer all kinds of outdoor activities, including fishing, hiking, mountain biking and climbing, to mention just a few.
---
Copyright (c) 1997 - 2008 interKnowledge Corp.
All rights reserved.