There are about 200 reasons why Skåne is called "Castle Country." Throughout the green, mild countryside and the coastal reaches, the castles are never far, and they cast a fairy tale glow across the land. Many of these architectural treasures date back to the 14th and 15th centuries - one of the most opulent eras in Swedish history. In their heydey, they were built to be impregnable, but today some of them even offer hotel accommodations and restaurants.
But there is much more to do in Skåne than tour its castles. It would be hard to find a landscape better designed for golf, and 30 of Sweden's best courses can be found here. The region also has beaches on both the Baltic and the North Sea, and its cuisine and history are particularly distinct. For hundreds of years, it was a kingdom in itself, and later it was ruled by Denmark. This mixed heritage has made it rich in tradition.
Major Attractions: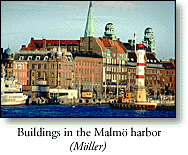 Malmö:
Malmö's harbor is one of the most picturesque in Scandinavia, and few leave the city without being entranced by it and its other architectural masterpieces - especially the 16th century town hall and city square. Though Malmö is Sweden's third largest city, with 250,000 people it has the atmosphere of a town. It has a major art scene, and part of the cityscape's charm are the galleries and museums are woven into it.
Lund
Not far from Malmö is Lund, one of the most important medieval centers in Scandinavia, and home to the world-famous 300-year-old university. In 1990 Lund celebrated its 1000th anniversary.
Helsingborg
Helsingborg is famous for its medieval keep, Kärnan, which looks out upon the Öresund strait. The keep is 900 years old, and from its tower one can look across the straight to Denmark and see Kroneborg Castle Helsingør (Elsinore) - the home of Shakespeare's Prince Hamlet.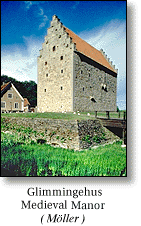 Österlen
It is sometimes referred to as the Provence of Sweden. Österlen lies in southeast Skane, and over the centuries its classic landscape of rolling hills and sandy beaches has appeared on countless artists' canvases. The town of Ystad is still one of the Sweden's major artist colonies, and its galleries are ideal for collectors. One of Österlen's more captivating sights are its famous Ale's Stones - a miniature (but impressive), Stonehenge-like rock formation that was once used to support the hulls of Viking ships under construction. Here also is Glimmingehus, the most well-preserved fortified medieval manor in Sweden.
Höganäs
This small town is best known as the source of some of Sweden's finest traditional pottery, but there is also a famous sculpture nearby, Nimis. Nimis is a seaside tower that a local artist constructed from 250 tons of driftwood and stone.
Båstad
Båstad and tennis are nearly synonymous in Sweden. This town in northeastern Skåne is home to the Swedish Open, and also to some of Scandinavia's finest summer resorts. Kristianstad
The Renaissance church in Kristianstad, Trefaldighetskyrkan, is reputed to be the finest in all of Scandinavia. The city is also the capital of the Swedish film industry, and has an impressive film museum.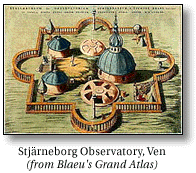 Ven
It was on this entrancing little island in the middle of the Öresund--the strait between Sweden and Denmark--that the famed Renaissance astronomer Tycho Brahe built his remarkable observatory, Stjärneborg. Among the most famous of Brahe's contemporary visitors were King Christian IV of Denmark and King James VI of Scotland. Today, visitors can pay a call to the recently opened Tycho Brahe Museum to find out more about Brahe's discoveries as well as his life on the island.
---
Copyright (c) 1997 - 2008 interKnowledge Corp.
All rights reserved.