Getting To and Around St. Lucia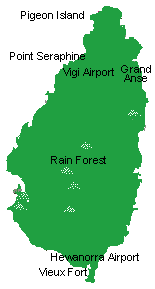 Travelling By Air
St. Lucia has two airports: Hewanorra International Airport at Vieux Fort and George F. L. Charles Airport near Castries.
Airlines who have a service to St. Lucia are American Airlines, US Airways, Air Jamaica, BWIA, Air Canada, Delta Air Lines, American Eagle, British Airways, Virgin Atlantic, LIAT and Caribbean Star

---
Travelling By Sea
The main sea port is Castries. There is an additional deep water anchorage for cargo and container ships at Vieux Fort in the south near the airport. Pointe Seraphine is the port of entry for cruise ships.
---
Car Rental
Cars and four-wheel-drive vehicles can be booked in advance through a travel agent or at the airports, hotels or at the following car rental offices on the island:
Vacation & Corporate Car rentals: 758-452-9404
Alto Rent A Car: 758-452-0233
Avis Rent-a-Car: 758-452-2700
Budget Rent-A-Car: 758-452-0233
Candida's Car and Jeep Rental: 758-452-9076
We Rent Autos Ltd.: 758-452-8947
St Lucia Car Rental: 758-450-8721
SSS Rentals Ltd. 758-458-3300
Island Car Rental: 758-450-4840
Holiday and Business Car Rental: 758-452-0872
Hertz Rent-A-Car: 758-452-0679
Guy's Car Rental: 758-451-7147
Gibbins Rent a Car: 758-452-9528
Economy Car Rental: 758-450-0293
Drive-A-Matic Car Rentals: 758-452-0544,
Courtsey Car Rental: 758-452-8140
Cost Less Rent A Car: 758-450-3416
Cool Breeze Car Rental: 758-459-7729
Car Total Rent-A-4X4 Limited: 758-450-2414
Best Rates 24hour Car Rental: 758-452-1330
Ben's West Coast Jeep Service: 758-459-5457

The rental rate per week ranges from US$295 to US$390 depending on the type of car and the company. The average daily rates are US$65.00, not including insurance, which can be an additional US$15-20 per day. A temporary driving licence is required for visitors and can be obtained on production of a current driver's licence on arrival at the airport, at the police station in Castries or at the car rental office. The cost is EC$30.
Driving Tips:
Driving is on the left, British style.
Seat belts should be worn.
Drinking and driving is against the law.
Observe the speed limits, especially a 30 mph limit within Castries.
Parking tickets are issued for vehicles parked in "no parking" zones, and the penalties start at around EC$40.
In case of a breakdown or accident, make sure to have the telephone number of the car rental company. If a breakdown occurs during business hours, the company will send a mechanic to fix or exchange the car. If it is after business hours, leave the vehicle and report the breakdown first thing next morning.
---
Domestic Travel Within the Island
Tour Operators

Sunlink St. Lucia Representatives: 758-452-8232
Barefoot Holidays: 758-450-0507
Solar Tours: 758-451-9041
Discovery Tours: 758-450-3333
Cox & Company: 758-452-2211
Spice Travel: 758-452-0865

Helicopters
Transfers are available from Hewanorra to Castries. Windjammer Landing, Jalousie Plantation, Pointe Seraphine and Rodney Bay also have Heli-Pads. These trips can be booked through a tour operator or directly through the companies in St. Lucia:

St. Lucia Helicopters Ltd.: 758-453-6950
Eastern Caribbean Helicopters: 758-453-6952

Boats
The hotels Anse Chastanet and Jalousie provide service between Soufriere and Castries for their guests.

Buses
Northern St. Lucia, around Castries and Gros Islet, has regular bus service until approximately 10:00pm (later on Friday nights), but there is no scheduled timetable. Fare from Castries to the north is EC$1.50; from Castries to the south is EC$7.00.

Taxis
Taxis can be obtained at taxi stands or by telephone; minibuses (accommodating 10 persons) can also be hired as taxis for groups. Fare from Castries to Hewanorra Airport is EC$120 up to four persons; Castries to Rodney Bay is EC$40 up to four persons.

---

Inter-Island Transport

Caribbean Express, a high-speed Catamaran service, operates between St. Lucia, Martinique, Guadeloupe and Dominica. It can be booked through travel agencies in St. Lucia.
There is a wide variety of vessels available for both bare-bottom and crewed charters from St. Lucia to the Grenadines and other destinations. The two most popular marinas are at Marigot Bay and Rodney Bay.

The following companies offer yacht charter services:

Brig Unicorn: 758-452- 6811
Cahoni: 758-452-0693
Destination St. Lucia: 758-452-8531
Endless Summer: 758-450-8651
Escape to Paradise: 758-452-0344
Moorings St. Lucia: 758-452-4256
Motor Yacht Vigie: 758-452-3762
Sun Sail Stevens: 758-452-8648
Surf Queen: 758-452-8351
Tradewind Yachts: 758-452-842
---