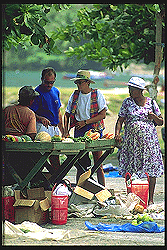 Travel Tips
Arrival and Entry Formalities:
Valid passports are required for all visitors who stay for less than six months. Visas are not required for citizens of the US or Commonwealth countries, or where there is agreement for exemption between the home country and St. Lucia.
---
Camping:
While on the island, camping can be arranged through the St. Lucia Naturalist Society, the St. Lucia National Trust, and The Forestry Division. The Anse La Liberte camp site is currently under construction.
---
Churches:
Almost 80% of St. Lucians are Roman Catholic. Other denominations include Anglican, Methodist, Baptist, Seventh Day Adventists, Church of the Nazarene, and Christian Science. Times of services at individual churches vary, and it is best to check at the hotel reception.
---
Climate & Clothes
St. Lucia's temperature ranges from 65-85 degrees (Fahrenheit) from December to May and 75-95 degrees from June to November. The winter is relatively more dry as well. Visitors should bring cool, comfortable clothing. While jacket and tie are rarely requisite, overly casual beachwear is rarely appreciated off the beach. Click here for the current four-day forecast.
---
Credit Cards:
Major international credit cards are widely accepted at all large shopping centers, restaurants, hotels, etc.
---
Crime:
Crime is not prevalent. However, common sense should prevail when traveling abroad not to make large displays of wealth (by wearing expensive jewelry, producing large wads of cash, etc.). Crimes of any sort should be reported to the hotel, the Tourist Board, and/or the Police.
---
Customs Regulations:
The duty-free allowance into St. Lucia is 200 cigarettes (or 250 grams of tobacco or 50 cigars) and one litre of spirits or wine.
---
Currency:
The currency of St. Lucia is the Eastern Caribbean Dollar which is linked to the US Dollar at the exchange rate of US$1 to EC$2.65. US Dollars are readily accepted throughout the island. Most hotels will exchange reasonable amounts of foreign currency, and there are change bureaus in Castries. The National Commercial Bank (NCB) has a branch at Hewanorra International Airport where EC Dollars can be exchanged for foreign currency. It is open daily from 12:30pm until the last flight departs. A passport and ticket are required as proof of returning visitor status.
---
Departure Tax:
There is a Departure Tax of EC$54 for all passengers leaving the island.
---
Electricity:
Electric current is 220 volts, 50 cycles AC. (A few hotels are 110 volts, 60 cycles.) Most sockets take 3-pin square plugs (UK standard) but some take 2-pin round plugs or flat American plugs which are more rare. Adapters are generally available at the hotels.
---
Embassies & Consulates:
Chinese Embassy 758-452-0903
French Embassy 758-452-2462
Venezuelan Embassy 758-452-4033
Netherlands Consulate 758-452-2811
Jamaican Embassy 758-452-3040
Italian Consulate 758-452-0865
Consul for Germany 758-450-8050
British High Comission 758-452-2484
Royak Danish and Swedish Consul 758-450-0190

---
Emergency Telephone Numbers:
Police, Fire and Ambulance - Tel: 999
Police Headquarters - Bridge Street, Castries
Tel: 452-3854/5

Tourist Board
PO Box 221, Pointe Seraphin, Castries
Tel: 452-5968, 453-0053, 452-4094

Air/Sea Rescue - Tel: 452-2894, 452-1182, 453-6664
---
Handicapped Access:
Most of the hotels have ground floor accommodations, but some are built on hillsides and are not practical for wheelchairs. The Royal St. Lucian Hotel has spacious rooms with wider doorways and wider baths with rails. The Rex St. Lucian also has rooms designed for handicapped visitors.
---
Health:
Immunization is not required unless coming from an infected area within six days of arrival.
Drinking water is safe from the tap and bottled mineral/distilled water is also available.
All hotels have doctors, either resident or available on call. A resident doctor's visit costs approximately EC$40-50. A "call out" visit may cost more.
There are several pharmacies in Castries, one on the Gros Islet Highway and one in Gablewoods Shopping Mall. Most hotels have "over the counter" medication, such as Aspirin, and first aid facilities.
---
Hospitals:
There are six medical facilities:
Victoria Hospital - Tel: 452-2421
Golden Hope Hospital – Tel. 452-7393
Tapion Hospital - 459-2000
St. Jude's Vieux Fort - Tel: 454-6041
Soufriere - Tel: 459-7258/5001
Dennery - Tel: 453-3310
---
Language:
St. Lucia's principal language is English, but a French-based patois is widely spoken.
---
Local Time
Greenwich Mean Time minus four hours; Eastern Standard Time plus one hour.
---
Lost Property:
Lost property should be report to the hotel, who will inform the nearest police station. The Tourist Board is also available to assist in such matters.
---
Media:
The main newspaper is "The Voice," which is issued three times a week. There are five weekly papers: "The Star," "The Crusader," "The Vanguard," "The Mirror," and "One Caribbean."
There are two St. Lucian television stations: HTS and DBS. Both broadcast nightly news and current affairs. There are also several American channels available.
There are two radio stations, Radio St. Lucia and Radio Caribbean International, both providing music, local news and current affairs.
---
Post Office:
There are Post Offices in most towns. Hours are 8:30am-4:30pm, Monday to Friday.
---
Service Charge and Tax
There is a government tax of 8% on hotel and restaurant bills, in addition to a service charge of 10%. In some cases, these charges are included in prices quoted.
---
Telephones
International direct dial service is widely available throughout the island. Credit card calls can be made through local operators or through AT&T, and phone cards can be purchased through Cable & Wireless offices throughout the islands.
---
Tipping
A tip is not automatically added and is usually about 10% to 12% of the bill. Tips are generally accepted by bellhops in hotels, taxi drivers and other persons providing service.
---