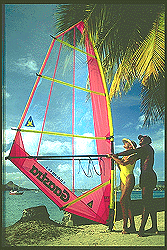 In addition to the wide variety of opportunities to hike, birdwatch, and tour St. Lucia's outstanding natural attractions, the island is replete with a full range of recreational facilities. Visitors may enjoy the leisurely pleasures of touring the island by horse, chartering a yacht for an evening sail or day cruise, or relax with a round of golf amid St. Lucia's entrancing natural beauty. For those who enjoy the thrill of more vigorous pursuits, there are plenty of places to windsurf, dive, water-ski, or play tennis or squash. There are also a number of activities more closely related to the traditional life of St. Lucia, including deep-sea fishing, weekly "jump-ups" at Gros Islet, and visits to the weekly market at Castries.
---
Helicopter Tours
There are few more exciting ways to view the splendid beauty of the island than by helicopter. Visitors can embark upon flights that loop around the northern and southern portions of the island, offering aerial panoramas that include the steaming cauldron of Soufriere volcano and the emerald carpet of the National Rain Forest.
---
Windsurfing
Most hotels offer instructors and first-class equipment for Windsurfing. The most popular spots for intermediate and advanced windsurfers are at Cas en Bas and Vieux Fort. Beginners will find the calmer waters off the west coast more manageable.
---
Sailing
Yachts can be chartered (bare-boat or skippered) through a number of charter operations housed in marinas at Rodney Bay and Marigot Bay . Both areas have safe anchorages, shower facilities, restaurants and bars, grocery stores, and yacht maintenance facilities. Day boat trips include stops at fishing villages and secret coves, and many of St. Lucia's natural treasures. Sunset cruises along the northwest coast afford a breathtaking view as the sun dips over the horizon. Meals and beverages are usually included in the tours.
---
Scuba Diving/Snorkeling
St. Lucia's warm clear waters and numerous spectacular reefs and marine life offer a perfect environment for both beginners and expert divers. Many hotels offer scuba diving facilities and snorkeling equipment and there are a number of independent dive centers offering short boat dives, night dives and a variety of scuba courses. The Anse Cochon and Anse Chastanet reefs and an old sunken ship are some of the underwater haunts waiting to be explored.
---
Waterskiing
Most of the major hotels offer water-skiing, with lessons available for beginners and intermediate skiers.
---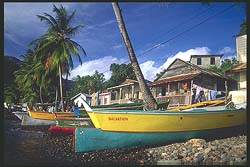 Deep Sea Fishing
A number of boat charter operations on the island offer whole and half-day deep sea fishing excursions. Seasonal catches include mackerel, king mackerel, white marlin, barracuda, kingfish and sailfish.

---
Golf
St. Lucia has three golf courses:
Jalousie Hilton Resort & Spa 9 Holes
Phone: 758-459-7666
www.jalousie-hilton.com
Sandals Regency Golf Resort & Spa at La Toc 18 Holes
Phone: 758-452-3081
www.sandals.com/main/lucia/lu-home.html

St. Lucia Golf & Country Club 18 Holes
Phone: 758 450 8523
www.stluciagolf.com
Temporary memberships, lessons from the resident pro, and golfing equipment are available.
---
Tennis
Tennis courts are available at most major hotels. The St. Lucia Racquet Club at Club St. Lucia (tel: 450-0551) has nine lighted courts. The St. Lucian Hotel (tel: 453-8351) has two courts, which are available to the public at reasonable rates. Lessons can be arranged.
---
Squash
Squash courts are located near the Cap Estate Golf Club, the St. Lucia Yacht Club, and at the St. Lucia Racquet Club.
---
Horseback Riding
International Riding Stables in Gros Islet (tel: 452-8139) offers fully insured riding for all levels. There are a variety of trail rides, plus a fascinating riding tour featuring a beach picnic at Cas en Bas, a scenic ride through the countryside, with extra time for swimming and more riding along the beach. Another facility, Trims Riding School (tel: 452-8273), is located at Cas en Bas.
---
Shopping
St. Lucia offers shoppers the option of browsing for duty-free imports like designer perfumes, crystal and china at Pointe Seraphine, a harbour-front shopping complex. Or, experience market day, when farmers' wives flock to Castries' 100-year-old outdoor market and gather under parasols to display their colourful wares. Fresh fruits and vegetables, spices, woven baskets and other local crafts are offered. Local handicrafts can also be found in a number of shops in Castries, in addition to hand-screened batik apparel and prints featuring island scenes at Caribelle Batik factory and Bagshaws silk-screening studio.
---
Fitness Centers
There are several well-equipped gyms, most with aerobics classes. Body Inc., located at the Gablewoods Mall (tel: 451-9744), offers weight training, step and regular aerobics, and a cardio center. The staff includes world-renowned body builders Rick Wayne and Mae Sabbagh. Gonard La Borde's Gym on Hospital Road (tel: 452-2788) has modern Weider equipment. Caribbean Fitness Expression in Vide Boutielle, Castries (tel: 451-6853), offers jazzercise, step, stretch and tone sessions, a large weight room and restaurant. Some of the major hotels also have well-equipped gyms.


---
This page, and all contents of this Web site are Copyright (c) 1996-2011
by interKnowledge Corp. All rights reserved.