Weddings & Honeymoons in St. Lucia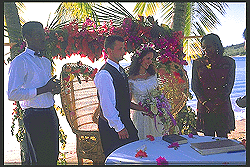 St. Lucia, known for its lush tropical beauty and breathtaking scenery, is highly-regarded as a romantic retreat and a honeymoon and wedding destination.
Most of the hotels in St. Lucia provide special facilities for couples getting married on the island; some will also provide a private room or suite for the ceremony, if you prefer. They can usually handle any other requirements, including bridal bouquet, photos or videos, music, the wedding cake, champagne toast for the bridge and groom, and even the services of the best man, if necessary. Honeymooners get special treatment in most hotels, with a basket of fruit and flowers or a bottled of chilled sparkling wine on arrival.
Hotels that offer special wedding packages include Anse Chastanet, Club St. Lucia, Green Parrot Inn, Le Sport, Royal St. Lucian, Sandals St. Lucia, Sandals Halcyon, Rex St. Lucian, and Windjammer.
Documents Required
The following original documents are required to be produced in person before the local registrar (foreign documents must be translated into English):
Passport
Birth Certificate
Proof of Absolute, if one of the parties is divorced.
A Death Certificate for the former spouse, in the case of a widow/widower.
A Deed Pool, if a name has been changed.
Evidence of parental consent, in the form of a notarized sworn affidavit, if one of the parties is under the age of 18.
Residency
Application to be married in St. Lucia must be made by a local solicitor to the Attorney General, who will issue a marriage license after a two-day residency period. It takes two business days to process the application.
Fees
You can expect to pay the following fees:
Notarial Fees & Marriage Licence - EC$335.00 if you are there 7 days before marriage. If you are there less then 7 days the fee for the Marriage License will be EC$540.00.
Registrar Fees - EC$100.00
Marriage Certificate - EC$8.00
Note: It is possible to be married on the fifth day after arriving in St. Lucia, if the above procedures are followed. Church weddings can be arranged for most denominations in advance

---
---
This page, and all contents of this Web site are Copyright (c) 1996-2011
by interKnowledge Corp. All rights reserved.