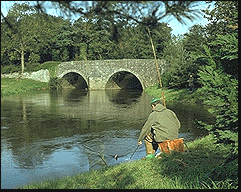 Northern Ireland's two main motorways strike out west from Belfast, skirting Lough Neagh 'that noble sheet of water' to the north and the south. To the north the M2 heads towards the Sperrins, while the M1 will bring you to the windswept moors of county Tyrone.
Apart from Omagh, the county town, Cookstown (famous for its sausages) and Dungannon the landscape is almost empty of men but rich in prehistoric and Celtic remains. About one thousand standing stones are a testament to the Stone Age people who passed this way.
Well known neolithic sites here include the Beaghmore stone circles near Cookstown which were uncovered only 40 years ago, and the chambered cairn of Knockmany at the top of a steep wooded hill north of Clogher. If you are interested in this period, the Ulster History Park near Gortin Glen Forest Park is well worth a detour.
From the seventh to the 12th century, crosses and High Crosses went up all over Christian Ireland and there is a superb example of this peculiarly Irish art, 18-l/2 feet high, at Ardboe. Another, not quite so tall, stands at the top of the main street in Donaghmore village.
The chief crowning place of the Tyrone O'Neills was Tullaghoge hill where there is a fine view of the old kingdom of Tyrone from the top. The crowning took place, it's said, 'amid the clang of bucklers and a hundred harps'.
The Ulster-American Folk Park at Camphill, Omagh, grew up round the cottage where Thomas Mellon was born in 1813. The story of the House of Mellon is the stuff that dreams are made of.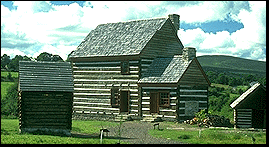 When Thomas was five his family emigrated to Pennsylvania. Thomas became a judge, a banker and a millionaire. His son Andrew became secretary to the US Treasury, ambassador to London, chief architect of the steel town of Pittsburgh and probably the richest man in the world. A love of English paintings led one Mellon to give Yale Museum 140 Constables, 41 Gainsboroughs, 42 Hogarths and 35 Stubbses. Mellon money helped build the Waldorf Astoria, the Golden Gate Bridge in San Francisco, the locks and gates of the Panama Canal - and the folk park at Omagh.
Also in the Folk Park is the cottage which was the boyhood home of Archbishop John Hughes. He was born in 1797 only a few miles away. A gardener's boy, he became Archbishop of New York, and founder of St. Patrick's Cathedral on Fifth Avenue. He was a politician, pamphleteer and champion of the Irish Catholic immigrants. His cottage was moved into the park and rebuilt stone by stone.
Near Strabane, is the ancestral home of Woodrow Wilson, 28th president of the US. The farm is still occupied by Wilsons, who will show callers round the house.
---
Northern Ireland Homepage | Travel Tips | Golf | Industrial Heritage | Walking, Hiking & Horseback | Activities | Calendar of Events | Transportation | Cuisine and Restaurants | Birdwatching | Fishing | Ancestral Heritage | County Antrim | County Armagh | City of Belfast | County Down | County Fermanagh | County Londonderry | County Tyrone | Tour Operators | InterKnowledge Home Page
---