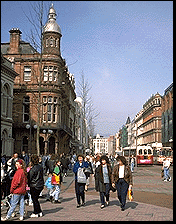 Unless you approach Belfast from the sea you cannot help but come upon the city suddenly because of its fine setting: a 'Hibernian Rio' as one writer has called it, ringed by high hills, sea lough and river valley.
A village in the 17th century, this robust northern metropolis of nearly half a million people - a third of Northern Ireland's population - has much in common with Liverpool and Manchester, those breezy cities across the Irish Sea. Belfast was the engine-room that drove the whirring wheels of the industrial revolution in Ulster. The development of industries like linen, rope-making and shipbuilding doubled the size of the town every ten years. The world's largest dry dock is here and the shipyard's giant cranes tower over the port.
Today the city and the river front are again being transformed. Much of the city centre is now pleasantly pedestrianized, with benches where you can sit and listen to the street musicians.
There are many exuberant Victorian and Edwardian buildings with elaborate sculptures over doors and windows. Stone-carved heads of gods and poets, scientists, kings and queens peer down from the high ledges of banks and old linen warehouses.
City of Belfast Overview | Belfast Points of Interest | Belfast Entertainment | Around Belfast
---
Northern Ireland Homepage | Travel Tips | Golf | Industrial Heritage | Walking, Hiking & Horseback | Activities | Calendar of Events | Transportation | Cuisine and Restaurants | Birdwatching | Fishing | Ancestral Heritage | County Antrim | County Armagh | City of Belfast | County Down | County Fermanagh | County Londonderry | County Tyrone | Tour Operators | InterKnowledge Home Page
---
Copyright (c) 1995-1997 interKnowledge Corp. All rights reserved.