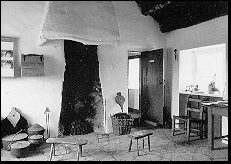 Millions of Irish people emigrated to North America, Australia and New Zealand in the eighteenth and nineteenth centuries. The ancestral farmsteads and cottages of some of those Ulstermen who rose to positions of power in the new state have been preserved. Places open to the public include the family homes of four American presidents. Two other important ancestral homes in the province - the birthplace of Judge Thomas Mellon and the boyhood home of the first Archbishop of New York - are at the Folk Park near Omagh. Northern Ireland's historical areas are the perfect starting points for those tracing their Irish lineage. In fact, US President Bill Clinton has himself paid a visit to Northern Ireland--the first US President to do so while in office.


Explore Ancestral sites in:

Belfast & Environs | County Antrim | County Armagh
County Down | County Londonderry
County Fermanagh | County Tyrone
---
Northern Ireland Homepage | Travel Tips | Golf | Industrial Heritage | Walking, Hiking & Horseback | Activities | Calendar of Events | Transportation | Cuisine and Restaurants | Birdwatching | Fishing | Ancestral Heritage | County Antrim | County Armagh | City of Belfast | County Down | County Fermanagh | County Londonderry | County Tyrone | Tour Operators | InterKnowledge Home Page
---
Belfast
Familia Shop
Genealogy centre for the counties of Down and Antrim.
Port of Belfast
Lagan Lookout visitor centre stands in Clarendon Dock, scene of many emigrant farewells. Giant ships- Lusitania, Titanic, Canberra-were built at the huge Harland & Wolff yard. From the 'wee yard' of Workman Clark came 'floating fridges' - Urmston Grange (1898) to carry beef from South America and Waimana (1911), to bring frozen New Zealand mutton through the Panama Canal-and the iron barque Polly Woodside (launched 1885), now in Melbourne Maritime Museum.
Clifton House
One of Belfast's prettiest buildings is the 18th-century former workhouse. In 1848 orphan girls from here were sent to Australia, the first of many forlorn little groups.
Ulster Museum
Irish art and artifacts, native American and Australian collections.
Tel.(01232) 381251.
---
County Antrim
Arthur Cottage, Cullybackey
Ancestral home of US president Chester Alan Arthur.
21st US President 1881-85
Tel. (01266) 44111.
From Cullybackey take B96 towards Portglenone. After 1/4m turn sharp right, signposted, and the cottage is 1/4m up this lane.
Tall and stout, Chester Alan Arthur enjoyed good living and was an excellent salmon fisherman. However, he was committed to reforming the civil service and was a progressive law maker- not the tool of a corrupt Republican party as was once thought. His father left the townland of Dreen in 1815 and set sail for America. Traditionally associated with the president's family, this farmhouse has been restored to its mid-19th century condition, with clay floors and an open flax-straw thatched roof. The loft is reached by a ladder. The kitchen has its original fireplace with cobbled hearth, and a delph-filled dresser. There is a display of small agricultural implements in the farm building and a pump at the door. Craft demonstrations are regularly held in summer. There is a pleasant view from the cottage, and there are several picnic tables.
Open mid-April to September Mon-Fri 10:30am-5 pm; Saturday 10:30am-4pm. Adult £1.00, child 50p, OAP free.
Andrew Jackson Centre
Andrew Jackson - 7th US President 1829-37
US president Jackson's parents left Carrickfergus 1765. The same building contains a US rangers' exhibition. The 1st battalion was raised here 1942.
Tel. (01960) 364972.
Andrew Jackson Centre Boneybefore, l mile east of Carrickfergus County Antrim. signposted, right off A2.
The fiery and iron-willed general, Andrew Jackson, was the hero of the Battle of New Orleans. During his presidency he was known as the 'People's President': His parents emigrated in 1765 from Carrickfergus. The Andrew Jackson Centre in the village stands near the site of their original home. A blue plaque on a stone plinth marks the actual site of their modest cottage. The centre is an 18th-century thatched cottage similar to the Jackson home which was demolished in the 1860s to make way for the railway. Living quarters, store rooms and stables are all under the same roof, furnished with items of the period. In the kitchen implements hang around the cottage's original open peat fire with its daub and wattle canopy. Graphic displays and video cover the background to the Ulster-American emigration. The president's family tree is traced in detail from the early days of the American Revolution.
Open Oct-May: Mon-Fri 10 am- 1 pm & 2-4 pm, Sat & Sun 2-4 pm; June-Sept: Mon-Fri 10 am-1 pm & 26 pm, Sat & Sun 2-6 pm. After 6 pm by arrangement with the Town Hall Tel (0196 03) 51604. Adult 30p, child & OAP 15p. Caretaker: Raymond Magowan Tel (0196 03) 64972
Broughshane
Baltimore banker Alexander Brown was born(1764) at 40 Carnlough Rd, now a specialist daffodil nursery.
Tel.(01266) 86126.
Bushmills Distillery
Exporting to America since 1784. Tours.
Tel.(0126 57) 31521.
---
County Armagh
Armagh Ancestry
Genealogy centre for Armagh county.
Aghory Presbyterian Church
Tower and window donated by American Disciples of Christ, church founded by 'Sage of Bethany' Alexander Campbell who left Armagh for Pennsylvania 1809.
Stonewall Jackson Ancestral Site
Waugh's Farm, The Birches.
Creggan Church, Crossmaglen
Graveyard tablets commemorate 18th -century Irish bards-Art McCooey (1738-73), Patrick MacAlinden (d.1733) and the bandit-poet Seamus Mor MacMurphy (1720-50).
---
County Down
Down County Museum
Once Downpatick Gaol-and packed with prisoners destined for Australia's penal colonies.
Tel.(01396) 615218.
Ulster Folk & Transport Museum
A 'must see' for all overseas visitors interested in their Ulster roots!
Tel. (01232) 428428.
Mount Stewart
Boyhood home of Robert Stewart, Lord Caslereagh, British foreign secretary during the 1812 war with America. Exquisite gardens.
Tel.(0124 77) 88387 (National Trust).
Ballynahinch
Scene of the last battle of the 1798 uprising. Most rebels went home, some were transported, a few were hanged. Mount Mulligan in Queensland is named for gold prospector James 'Venture' Mulligan, born 1837 in Drumgooland, south of Ballynahinch.
Killyleagh Castle
Group tours
Tel. (01396) 828261
---
County Fermanagh
Enniskillen Castle
Former stronghold of the Maguire chieftains of Fermanagh who controlled the vast lake with a private navy of 1,500 boats. (Museum complex includes Inniskilling Fusiliers museum.)
Tel. (01365) 325000
Castle Coole
Northern Ireland's most palatial stately house, home of Somerset Richard Lowry Corry, Earl of Belmore, able administrator and governor of New South Wales 1868-72.
Tel. (01365) 322690
(National Trust).
Belleek Pottery
Thousands of Americans and Canadians collect the famous creamy pottery, first made in 1857.
Tours.
Tel. (0136 56) 58501.
Roslea Heritage Centre
A genealogy service for East Fermanagh is available.
Tel. (0136 575) 750.
Aghalurcher
Medieval ruined church and chief burying place of the Maguires. Fine gravestones.
---
County Londonderry
Londonderry Genealogy Heritage Centre
Genealogy centre for Londonderry county.
Tower Museum
The city's history, vividly presented.
Tel. (01504) 372411.
Harbour Museum
Preserves the prow of Minnehaha, the last sailing ship to run scheduled services to America. Even during the civil war, she safely delivered 1,000 emigrants to New York each year.
Tel. (01504) 365151.
---
County Tyrone
Ulster-American Folk Park
Camphill, 5 miles north of Omagh on A5, County Tyrone.
Tel. (01662) 243292.
Open Easter-early Sept: Mon-Sat 11 am-6.30 pm, Sun & public holidays 11.30 am-7 pm; mid Sept-Easter: Mon-Fri 10.30 am-5 pm. Adult 2 (pounds), child, OAP & disabled visitor 1 (pound)
Mellon Homestead
The Folk Park grew up around this cottage, where Thomas Mellon was born in 1813. He was five when his family emigrated to America. Long after he rose to wealth and power in the USA, Judge Thomas Mellon went back to his birthplace and found that nothing had changed: it was all there in every particular 'as I had seen it when I was a child and still remembered it'. His son Andrew became secretary to the US Treasury, and was the richest man in America. Thomas's portrait still hangs in the house.
Hughes Cottage
Also in the Folk Park is the cottage which was the boyhood home of Archbishop John Hughes. He was born in 1797 only a few miles from the Folk Park. A gardener's boy, he became Archbishop of New York, and founder of St Patrick's Cathedral on Fifth Avenue. He was a politician, pamphleteer and champion of the Irish Catholic immigrants. His cottage was moved into the park and rebuilt stone by stone.
Donaghmore Heritage Centre
Genealogy centre for Tyone and Fermanagh.
Gray's Printing Press, Strabane
John Dunlap, who founded the Pennsylvania Packet, America's first daily paper, and printed the Declaration of Independence, was apprenticed here.
Tel. (01504) 884094
President Wilson House, Dergalt
Woodrow's grandfather emigrated from this house in 1807.
Woodrow Wilson - 28th US President 1913-21
Dergalt, 2m se of Strabane, Co Tyrone
Tel. (01662) 243292
From Strabane take the Plumbridge road. After 2 miles turn left down lane signposted 'Wilson House'. Park in front of the Wilson house and call at the modern farmhouse, set back on the right, for admission.
Woodrow Wilson was a conservative idealist, a fine orator and winner of the Nobel Peace Prize. He was also rather self-righteous and could be irritable! This thatched white-washed house, on the slopes of the Sperrin mountains, was his grandfather's home and contains some of the original furniture. The tiny outshot bed (sleeping nook) in the kitchen is close to the fire, where cooking pots and kettles still hang. The main room has larger curtained beds and a fine portrait of Judge James Wilson, the president's grandfather, hanging over the fireplace.
JamesWilson left this house for America in 1807 when he was 20. The Wilsons still occupy the modern farmhouse next door and are full of stories about the fascinating Wilson photographs and artifacts.
Open April-Sept Mon-Sun 2-6 pm. Adult 25p, child 15p.
Grant Ancestral Home, Ballygawley
John Simpson, maternal great-grandfather of Ulysses Simpson Grant, was born at Dergina Ballygawley, Co Tyrone in 1738.
Ulysses Simpson Grant - 18th US President 1869-77
From Ballygawley take A4 road to Dungannon. After 3m turn right, signposted, and the homestead is 2m from the main road on the right.
Ulysses S Grant was the victorious commander of the Union Army during the American Civil War. Despite having little taste for politics, he was president for two terms. Afterwards, as part of a world tour in 1878, he visited Ulster. This farmhouse was the home of his maternal ancestors. His great-grandfather, John Simpson, was born here in 1738 and left for Pennsylvania when he was 22.
The cottage has two rooms with mud floors and has been restored and furnished with functional period pieces including a settle-bed and dresser. A selection of typical agricultural implements is on view - ploughs, turf creels and a horse-drawn cart. The adjoining visitor centre tells the full Grant story and has interesting exhibits of rural life, an audio-visual theatre and a souvenir shop.
Open March-May & Oct: Mon-Fri 10.30am-4.30 pm; June-Sept: Mon-Sat 10 am-6.30 pm, Sun 2-6 pm. Latest admission 1 hour before closing. Adult 50p, child & OAP 25p. Tel (0166 252) 7133
Augher
Archbishop Hughes of New York born here 1797. Window in St. MacCartan's church, Ballynagurragh, signposted off A4.
---
Northern Ireland Homepage | Travel Tips | Golf | Industrial Heritage | Walking, Hiking & Horseback | Activities | Calendar of Events | Transportation | Cuisine and Restaurants | Birdwatching | Fishing | Ancestral Heritage | County Antrim | County Armagh | City of Belfast | County Down | County Fermanagh | County Londonderry | County Tyrone | Tour Operators | InterKnowledge Home Page
---
Copyright (c) 1995-1997 interKnowledge Corp. All rights reserved.