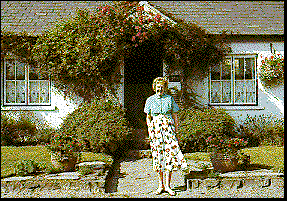 "I met my love by the gasworks wall
Dreamed a dream by the oul canal
I kissed my love by the factory wall
Dirty ole town, dirty ole town."

Northern Ireland's industrial heritage is perhaps the most underestimated factor in the shaping of the province's history, political as well as social. Anyone who has read Leon Uris' "Trinity", which is well researched and historically accurate, will have gained a valuable insight into the strange days and ways which determined the lives of so many, and whose mark, for better or worse, endures.
The province's contribution to the Industrial Revolution, which began over 250 years ago, was tremendous. Although Ireland was on the periphery of industrial development, by 1900 the North was one of Europe's greatest manufacturing regions. It led the world in linen production and shipbuilding, (the ill-fated Titanic was built at Belfast) and fostered a huge variety of small-scale industries in rural areas.
Visitors to Northern Ireland will observe a wealth of industrial heritage sites scattered throughout the landscape. Some, such as old linen mills, corn mills and railways are well preserved and open to the public. Others, such as bridges, reservoirs and the famous Antrim Coast Road built in 1834, are a vital part of Northern Ireland's everyday life.
Factory visits
The following factories and workshops offer guided tours of their works, many of which are free of charge. Some businesses are run solely by the craftsman and the tour is given as an extra to normal business. In all cases it is advisable to check tour availability before setting out.
---
Linen and linen products
Ferguson Linen Centre, 54 Scarva Road, Banbridge BT32 3AU. Tel (082 06) 23491
William Clark and Sons Ltd., Upperlands, Maghera BT46 5RZ. Tel (0648) 42214
Killyleagh Yarns, Catherine Street, Killyleagh BT 30 9QH. Tel (0396) 828869
Worth a visit also, from an architectural as well as industrial/historical viewpoint, is the model linen village at Sion Mills, (south on the A5 from Strabane).
---
Breweries and distilleries
Bass Ireland, Ulster Brewery, Glen Road, Belfast BT11. Written applications only to PRO Brian Houston.
Hilden Brewery, Hilden House, Hilden, Lisburn BT27 4TY. Tel (0846 663863)
Old Bushmills Distillery, 2 Distillery Road, Bushmills BT57 8XH. Tel (026 57) 31521
---
Bread Making
Victoria Bakery, Arthur Mc Cann Ltd., Castle Street, Newry BT34 2BY. Tel (0693) 62076
---
Glass Blowing
Tyrone Crystal, Killybrackey, Coalisland Road, Dungannon BT71 6TT. Tel (0868)725335.
---
Glass cutting
Fermanagh Crystal, Main Street, Belleek BT93 3FY. Tel (036 56) 58631.
---
Cheese and butter making
Dromona Quality Foods, Dunman Factory, 139 Moneymore Road, Cookstown BT80 9UU. Tel (064 87) 66296.
Dromona Creamery, 75 Dunminning Road, Cullybackey BT42 1PE. Tel (0266) 880253
---
Printing
Belfast Telegraph Newspapers, 124 Royal Avenue, Belfast BT1 1EB. Tel (0232) 321242
---
Pottery
Belleek China, Belleek BT93 3FY. Tel (036 56) 58501
Tullylish Potteries, 59a Banbridge Road, Tullylish, Gilford BT63 6DL. Tel (0762) 831765
---
Potato Processing
Tayto, Tandragee Castle, Tandragee BT62 2AA. Tel (0762) 840249
---
Ice Cream Making
Maud's Ice Cream Dairy, 26 Glenoe Village, County Antrim BT40 3LG Tel (0574) 272387
---
Fish farm
Movanagher Fish Farm, 152 Vow Road, Ballymoney BT53 7NJ. Tel (026 65) 40533
---
Craft centres
Craftworks Gallery, 13 Linenhill Street, Belfast. Tel (0232) 236334
Buttermarket, Down Street, Enniskillen, County Fermanagh. Tel (0365) 324499
Derry Craft Village, Shipquay Street, Derry. Tel (0504) 260329
---
Northern Ireland Homepage | Travel Tips | Golf | Industrial Heritage | Walking, Hiking & Horseback | Activities | Calendar of Events | Transportation | Cuisine and Restaurants | Birdwatching | Fishing | Ancestral Heritage | County Antrim | County Armagh | City of Belfast | County Down | County Fermanagh | County Londonderry | County Tyrone | Tour Operators | InterKnowledge Home Page
---
Copyright (c) 1995-1997 interKnowledge Corp. All rights reserved.