---

---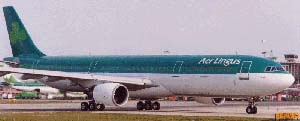 Vacation Guide
Aer Lingus can offer weekend and mini breaks to a range of destinations in the countries we fly to.

---
Choose from:
A weekend theatre break in London
Scotland for a relaxing short break

Accomodation in a selection of hotels, manors, castles in Ireland
A visit to historic Rome
Or why not go Dutch in 1996 with a visit to Amsterdam ?
With Aer Lingus you choose your own travel arrangements, hotels and how to spend your time while you are there. Once you have made up your mind, leave the rest to us and your holiday will provide a lasting memory.
Aer Lingus also offer a range of breaks in New York, Boston, L.A. and many other exciting cities in the USA. Cape Cod and Florida are also among the many holiday destinations available.
For customers visiting Ireland Aer Lingus can arrange all your hotel and car-hire requirements while you are here. Each of our offices offers its own program so contact your nearest Aer Lingus office for further details.
---

Reservations from Ireland
Theatre breaks in London, weekends in Manchester, Edinburgh, Paris, Amsterdam, Rome, Brussels, Frankfurt, Zurich, Madrid, Milan, Aer Lingus offer them all and more. We can organise your hotel accommodation and car hire in the UK and continental Europe.
Why not let Aer Lingus organise your holiday in Cape Cod or Florida ? We can also arrange hotel accommodation in US cities from New York to San Francisco. For more information please contact Aer Lingus tel: 01 705 6556
---
Discover Ireland Vacations (ex USA)
A selection of motoring vacations in Ireland with accommodation to suit all budgets. Cozy B&B's, gracious country houses, deluxe hotels, castles and manors, and self-catering cottages in magnificent rural settings. Discover Ireland at your own pace in an Avis rental car with a choice of Go-As-You Please B&B and Hotel accommodation; or on a pre-booked itinerary where you can relax in the knowledge that your selected accommodation is awaiting your arrival.
For more information contact Aer Lingus tel: 1-800-223-6537
---
Aer Lingus Holidays (ex UK)
Aer Lingus operate daily schedule flights from nine UK airports to Dublin. We offer a wide range of Weekend Breaks where you have a choice of staying in cozy B&B's, tourist or deluxe hotels with a hearty Irish breakfast daily and return transfers from airport to your Dublin city hotel.
We can also fly you into the heart of the Irish countryside to Shannon, Cork, Galway, Sligo and Kerry where you can enjoy a short weekend break, or longer, at a choice of accommodations from cozy B&B's, gracious country houses, deluxe hotels and self- catering cottages. Go-As-You Please or pre-book - the choice is yours to enjoy Ireland at your own pace in an Avis rental car.
---
For more information, please contact:
Aer Lingus
US tel: (800) 223-6537
London tel: (081) 569-4001
Manchester tel: (061) 839-3357
Glasgow tel: (041) 248-41217
Birmingham tel: (021) 631-4680

---


Northern Ireland Homepage | Travel Tips | Accommodations | Houses & Gardens | Golf | Industrial Heritage | Walking, Hiking & Horseback | Activities | Calendar of Events | Sample Itineraries | Transportation | Cuisine and Restaurants | Birdwatching | Fishing | Ancestral Heritage | County Antrim | County Armagh | City of Belfast | County Down | County Fermanagh | County Londonderry | County Tyrone | Tour Operators | Best Bets | The Northern Ireland Browser's Page | InterKnowledge Home Page
---
Copyright (c) 1996 interKnowledge Corp. All rights reserved.