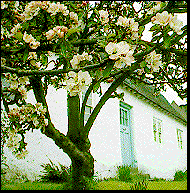 Keady, noted chiefly for the 'Keady trout lakes', is also of interest to the industrial archaeologist as the centre of a district with dozens of derelict watermills. Tassagh Glen has a mill and viaduct of monumental proportions.
Richhill, which has several furniture workshops and a quaint Dutch-style castle, has won Ulster's best-kept village title more often than anywhere else.
Charlemont, on the Blackwater, has the walls of a star-shaped Elizabethan fort, built by Lord Mountjoy, Lord Deputy of Ireland, in 1602, right on the Tyrone border.
Blackwatertown and Middletown, on the Blackwater river and the old canal are interesting for old warehouses.
Poyntz Pass on the Newry Canal has peaceful towpath walks by old locks and hump-backed bridges.
Tynan has a Celtic Cross marking the entrance to the county and with, appropriately, a carving of Adam and Eve under an apple tree.
County Armagh Overview | The City of Armagh | The Armagh Villages
---
Northern Ireland Homepage | Travel Tips | Golf | Industrial Heritage | Walking, Hiking & Horseback | Activities | Calendar of Events | Transportation | Cuisine and Restaurants | Birdwatching | Fishing | Ancestral Heritage | County Antrim | County Armagh | City of Belfast | County Down | County Fermanagh | County Londonderry | County Tyrone | Tour Operators | InterKnowledge Home Page
---