IXTAPA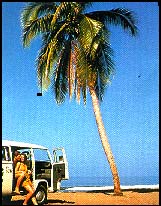 Ixtapa occupies the site of what was once an immense coconut plantation, and the famous resort retains much of the tranquility of that earlier incarnation. Having carefully maintained a philosophy of slow and limited growth, Ixtapa has emerged as a green resort town which, in spite of its collection of luxury hotels and resorts, still doesn't need a single stoplight.
Ixtapa's glorious natural environment is its raison d'etre. The scalloped shoreline creates its own intimate beaches and coves, ideal for sunning and swimming. The surrounding sunny foothills of the Sierra Madre cradle wild orchards of mango and citrus fruits. Zihuatanejo, the traditional town that is Ixtapa's next-door neighbour, makes an enjoyable day trip, with its quiet streets and tiny shops.
The area around Ixtapa is famous for its fishing, and, logically enough, for its seafood. Restaurants serve fresh and imaginative dishes for every meal.
---
Copyright (c) 1998-2008 interKnowledge Corp. All rights reserved.

.