IXTAPA
An Introduction
Like Cancun, Ixtapa was developed by the Mexican government as a resort center about 20 years ago. Somewhat less crowded and more favored by Mexicans, Ixtapa still has everything the beach vacationer could want: great dining, fishing, golf, horseback riding, scuba diving, nightlife, and shopping. An added bonus is that half of the land on the site has been allotted for an ecological reserve, and hotels must follow strict construction guidelines in relation to the land area. For these reasons, Ixtapa retains an atmosphere dominated by nature and solitude.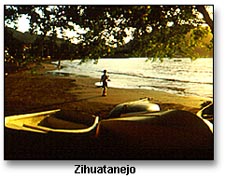 Four miles from Ixtapa is the fishing village of Zihuatanejo, and the two cities are often referred to Mexico's "Twin Resorts." Zihuatanejo is nothing like Ixtapa, however: it is much less crowded, less developed, and actually has an economy exclusive of tourism. The lodgings here are less glamorous than in Ixtapa, but more quiet. The town also has a small museums displaying local archeological finds dating back to the Olmecs.
---
Copyright (c) 1998-2008 interKnowledge Corp. All rights reserved.

.