IXTAPA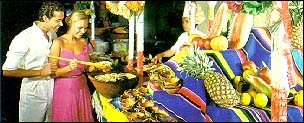 An unusual way to get to know the Ixtapa-Zihuatanejo area is on horseback. The slow pace is a good match for the relaxed pace of life. Guided tours leave regularly from Playa Linda.
---
Interesting Places
El Faro
An 82-foot lighthouse with a bar on top.
Playa Quieta
A good place to people-watch, sail, or windsurf. Boats depart from here to Isla Ixtapa.
Museo Arqueologico de la Costa Grande
Housing almost 1,000 pieces of art and artifacts from nearby sites. There are supplementary maps and murals, all in Spanish.
Palapa (Thatch-roofed) Restaurants
Abundant along this coast, most are small establishments that serve excellent seafood and have a casual, festive atmosphere.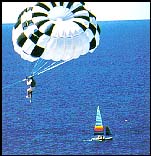 Isla Ixtapa
The small, wooded island off the coast. Boats depart regularly from Ixtapa for a half-day's or day's excursion to this peaceful locale, where visitors can picnic, take in the sun, snorkel, and swim. The main beach is dotted with palapa eateries, and one can rent snorkeling equipment nearby. The last boat departs Isla Ixtapa for the mainland at 5pm daily.
In addition to its many fascinating sights, not to be missed is Ixtapa's annual Torneo de Pez Vela (swordfish tournament), held in May and December.
---
Copyright (c) 1998-2008 interKnowledge Corp. All rights reserved.

.