C O N T E N T S :


HISTORY



ICELAND'S RICH GEOLOGY




A FEW OF THE SIGHTS




PEOPLE & CULTURE IN ICELAND




FUN THINGS TO DO WHILE
YOU'RE HERE




A LIST OF ACCOMMODATIONS


A LIST OF DATES, HOLIDAYS, ETC...


ESSENTIAL INFO




WE LOVE FEED BACK.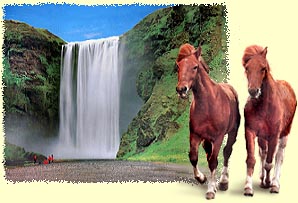 Iceland: A Land of Many Possibilities

We invite you to browse our site and learn about this wonderful country. But first, we'd like to introduce you to some of the basic facts and travel possibilities in Iceland - and debunk a few myths. Whether you're planning to stay a month or drop in on your way to Europe, what you learn might surprise you.

The first thing you should know about Iceland is that it is nowhere near as cold as its name implies. The average January day in Reykjavik is about the same temperature as it is in New York City. This means that a winter trip is just as viable as a summer visit, and the costs are much lower. Why the old Norsemen who first came here gave such an icy name to a such a green country is a mystery, but there is an old legend: the first Viking to discover the island wanted to keep it all to himself, so he named the green country "Iceland" and the icy country "Greenland," hoping that future settlers would head further north.