The northernmost capital in the world, marked by cheerful pastel rooftops and an exuberant night scene, is often referred to as an "overgrown village." Though nearly half of all Icelanders live in and around Reykjavik, the city is still small by many standards, with a population of only 100,000. For the old timers who have been here since the turn of the century, a number like that is way out of control: in 1901, the population was only about 5,000.

Reykjavik's compact size, however, belies its worldly status. It is in every way a world capital, albeit a small one. Here is where you'll find all of Iceland's national glory, its theaters, night life, and much of its history. In recent times, the city became prominent on the world stage when American President Ronald Reagan and Soviet General Secretary Mikel Gorbachev met here in a summit that many say marked the beginning of the end of the Cold War.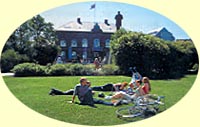 Although people have lived here since settler Ingolfur Arnarson first arrived in the late 9th century and named the site "smoky bay" after noticing some geothermal fog nearby, the old homesteads are long gone, having been made of perishable earth, wood, and grass. To get a good idea of the lay of the land, a perfect first stop is Hallgrimskirkja, the towering church that stands above the famous statue of explorer Leif Eiriksson. Climb the tower on a clear day, and you can see for hundreds of miles, a phenomenon caused by the amazingly clear Arctic air.
Most of what has been preserved of Old Reykjavik lies along Adalstraeti ("main street"), which was once the site of a short-lived 18th century crafts village. Other notable older structures nearby are the Government House, the National Gallery, and the Althing (parliament house), which was relocated from Thingvellir in 1798. Those interested in Viking and Icelandic history will want to visit the National Museum, where virtually all of the country's archeologic treasures are stored, among them an elaborate 13th century door. More modern structures include "the Pearl" (a revolving restaurant build atop massive hot water tanks) and the new Town Hall. As far as modern art goes, there is the Kjarvalsstadir Municipal Gallery and the Asmundur Sveinsson Sculpture Gallery, with its outdoor garden filled with giant, Piccasso-like sculptures.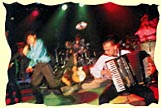 The one thing most people have heard about Reykjavik is that it has a wild night life, which is absolutely true. On Friday nights, downtown is packed with carousing teens and adults, many of them happily swilling beer and klarvin, the local vodka. This party-hearty tradition is known as the runtur, or "circuit," and this is the best time to head out and meet Icelanders, who will probably be more than happy to show you around the local restaurants, discos, and pubs. By the end of the night, don't be surprised if you are singing Icelandic songs and introducing yourself by your Icelandic surname, which you create by taking yours father's first name and adding either "son" or "dottir," depending on your sex.
Reykjavik | Blue Lagoon | Geysir | Gullfoss | Akuryeri | Thingvellir | Snaefellsnes Peninsula | Lake Myvatn | Westmann Isles