The Northern Lights
Winter Wonders...
"Visit Iceland in winter?" you ask, "Isn't it too cold?" Actually, the temperature in Iceland in January is about the same as it is in New York City - Iceland has the added spectacle of the Northern Lights. Winter is also the cheapest time to visit: some flights and accommodations cost HALF what they do in the tourist season. See your travel agent for details about winter bargains.
Take-A-Break in Iceland on the Way to Europe
…at no additional air fare!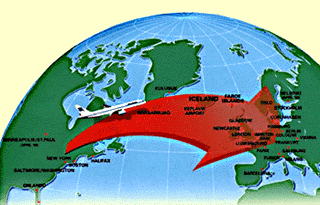 Next time you want to go to Europe, Take-A-Break in Iceland. The charm and culture of its Scandinavian people blend with the breathtaking beauty and purity of its nature. Volcanoes, waterfalls, geysers, glaciers, geothermal pools and ancient lava fields form a magnificent country that's perfect for world travelers – or first-time travelers to Europe. There is no additional airfare to worry about with our popular Take-A-Break program that allows you to stay up to three nights on your way to or from Europe. And everyone speaks English, so what are you waiting for?

SOME SUGGESTIONS:
Visit the glaciers. Go skiing in Akuryeri. Drive the "Golden Circle". Hang out in a Reykjavik cafe. Go whale watching in the Westmann Islands. Ride Icelandic horses. Take an historic tour. Go trout fishing. Tour the hot springs. Go birdwatching.
Icelandair links North America with Iceland and other European destinations through six major gateway airports – New York's JFK, Baltimore-Washington's BWI, Boston, Orlando and Halifax International Airports. Passengers may connect in Reykjavik to Scandinavia, Great Britain and continental Europe.