Grand Bahama Island
Destination Update 2002
---
OUR LUCAYA BEACH & GOLF RESORT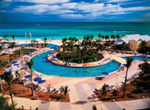 Spanning a seven-and-a-half acre stretch of pristine white sandy beach, the Bahamas' newest resort, Our Lucaya Beach & Golf Resort, spearheads the resurgence of Grand Bahama Island. This $450 million complex opened its doors December 1, 2000.
The resort includes:
Reef Village – 550 rooms and suites overlooking the Sugar Mill waterslide and Camp Lucaya.

Breaker's Cay – A 10-story tower in the center of the resort. Harbor Club rooms share an exclusive concierge suite and personal "beverage butlers" to deliver cocktails directly to balconies.

Lighthouse Pointe – This is the resort's most exclusive option featuring 221 rooms and suites and 25 Lanai suites. All rooms have a water view. Lanai Suites come complete with a steward. The Lucaya Suite is a two-story utopia with three guest rooms, a dual-level wrap veranda and a personal butler.
40,000 sq. ft. of indoor function and meeting space and 50,000 sq. ft. of outdoor event and meeting options; Grand Ballroom and 16 meeting rooms; A/V capabilities and simultaneous translations.
The casino is slated for opening in fall 2002.
---
THE RESORT & CASINO AT BAHAMIA (Royal Oasis)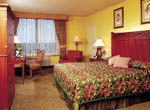 Under new ownership by Driftwood Freeport Limited, the Resort & Casino at Bahamia has begun a $42 million renovation. The property includes 965 guest rooms, 100 timeshare units, two 18-hole golf courses and a casino. The tower will be re-branded as a Crowne Plaza, and the Country Club as a Holiday Inn Sunspree, creating the first dual-branded resort in The Bahamas.
The $42 million renovation will refurbish guest rooms and the casino and create green parks with walking trails, ponds, waterfalls and a free-form sand pool. A family-oriented entertainment area with a spa fitness center and children's program will also be added. A new retail shopping mall will connect the Tower and the Casino. The Fazio Golf Design Group is also redesigning the resort's two golf courses for approximately $6 million.
---
OLD BAHAMA BAY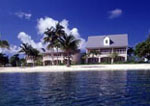 A "Small Treasures" hotel, the Inn at Old Bahama Bay sits on the western tip of the island. Its doors opened on February 9, 2001. The resort currently features 24 open-style suites set in six two-story seaside Beach Houses and Marina Loft buildings. The self-contained resort, features a dockside grille, tennis courts, small boat and sailfish rentals, non-motorized water sports, dive and sail charters, and an extensive snorkel trail program. Plans also include a new 4,000 sq. ft. pool, new driving range, room service and 3,000 sq. ft. of flexible meeting space.
Phase 2 will include a golf course, airport, and marina expansion to 200 slips.
---
PELICAN BAY AT LUCAYA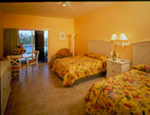 Also one of the "Small Treasures" hotels on Grand Bahama Island, Pelican Bay has begun construction of 48 luxury suites. The multi-million dollar expansion is slated for completion by spring 2002. Suites will feature a large master bedroom, living/dining room, kitchen, and bar area. All suites will have a view of the water.
---
BEST WESTERN CASTAWAYS RESORT & SUITES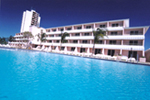 On March 16, 2001, Castaways Resort & Suites re-opened its doors as a Best Western affiliate. This refurbishment represents a $5 million investment into the property. All rooms have been completely gutted and redecorated, and 21 suites have been added – giving a total of 139 rooms with private balconies. The lobby has also been completely refurbished and includes a lobby bar.
---
LUCAYAN HARBOUR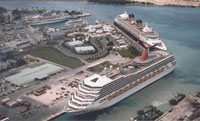 In addition to the hotel development on the island, $10.9 million is currently being invested to redevelop the Lucayan Harbour Cruise Facility, which is one of the deepest harbours in the region. The new facility includes a new cruise passenger terminal and a 25,000 square-foot landscaped retailed village. Further expansion will include the most modern ship care facility in the world, capable of handling the largest ships sailing. The port will house two dry dock positions, several wet dock positions and a warehousing facility for storage supplies.
For more information, contact:
Grand Bahama Island Tourism Board
Tel: (242) 352-8044 / Fax: (242) 352-2714 or (242) 352-7840
Contact: Thelma P. Sturrup