MARINAS
IN GRAND BAHAMA ISLAND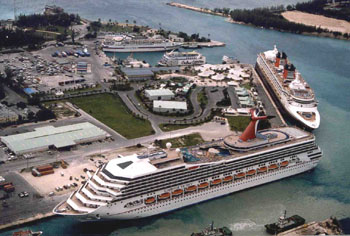 Grand Bahama Island has seven marinas, four of which are official ports of entry: Running Mon Marina; the Lucayan Marina and Port Lucaya Marina, both at the heart of Port Lucaya Marketplace, a festive place for fine shopping, dining and entertainment; and in West End, Old Bahama Bay, away from it all at the westernmost tip of the island. The Lucayan Harbour Cruise Facility, even though not a marina, is an official port of entry. The marina at Ocean Reef Yacht Club can accommodate boats up to 200 feet, but is not an official port of entry.
Those wishing to visit the island by boat, should plan for the first port of call to be a recognized Port of Entry, such as Port Lucaya or West End. However, upon arrival at any marina, the boat or yacht may be cleared by contacting Bahamas Customs and Immigration and arranging to have officers visit the vessel at the marina.
In addition, before arrival at the harbour or marina, the Harbour Control/Marina Office should be contacted by radio (VHF Channel 16) and pre-arrival information should be exchanged. This includes the vessel's name, registration number and last port of call. Conversely, on leaving the harbour/marina, pre-departure information should be provided.
MARINA LOCATION
FACILITIES
Ocean Reef Yacht Club
54 Bahama Reef Blvd., Lucaya
P.O. Box F-42695
Tel: 242-373-4662
Fax: 242-373-8621
E-mail: oceanreef@batelnet.bs
Description: 52 Slips - can accommodate vessels up to 140 feet.
Depth dockside: 6 feet
Facilities: electricity, water/ice, charter boat rental, accommodations, tackle & bait.
Monitoring: VHF 16.
Dockage / Electricity rates: Contact for info.
Old Bahama Bay
West End
P. O. Box F-42546
Tel: 242-350-6500/800-444-9469
Fax: 242-346-6546
E-mail: j.erhman@oldbahamabay.com
Description: 72 Deepwater Slips (125 new full-service slips in development) - 26 miles from Freeport/Lucaya and 56 miles from West Palm Beach. Can accommodate vessels up to 120 feet with low-tide depths of 8 feet. Official Port of Entry with on-site Customs & Immigration. Lighted markers for night navigation.
Facilities: electricity, water, fuel, cable, showers, laundry facilities, telephone and fax service with internet access. The Dockside Grill serving breakfast, lunch & dinner.
Monitoring: Channel VHS 16 (switch to channel 10). Call sign: "Old Bahama Bay."
Dockage reservations: Tel (242) 350-6500 / Fax (242) 346-6546 or on-line at www.oldbahamabay.com.
Port Lucaya Marina
Lucaya
Seahorse Road
P.O. Box F-43233
Tel: 242-373-9090
Fax: 242-373-5884
Toll Free: 800-582-2921/800-Lucaya1
Description: 106 Slips - can accommodate vessels up to 175 ft. Live-aboard welcome. Port of Entry. Adjoins Port Lucaya Marketplace with shops, restaurants, bar and entertainment. Next door to Underwater Explorer's Society (UNEXSO). Connected by water walk to the Dolphin Experience.
Facilities: high-speed fuel station, water/ice, showers, laundry, grocery supplies, charter/boat rental, accommodations, maid service, catering, telephone and cable TV hook-ups, concierge, business services.
Daily dockage rate: in season $1.50 per foot; off-season $1.20 per foot. Monitoring: VHF 16/72.

Running Mon Marina & Resort
208 Kelly Court, Bahama Terrace
P.O. Box F-42663
Tel: 242-352-6834
Fax: 242-352-6835
Description: 70 Slips - Port of Entry.
Facilities: Fuel, electricity, water/ice, showers, tami-lift to 40 tons, complete marina service and hotel, tackle shop plus bait, 24-hour security, taxidermist agency, laundry, cable TV, charter fishing boats, glass-bottom boats and snorkeling available. Courtesy bus.

Daily Dockage Rates Through September 2002

Type/Time

Dockage per ft.
(35 ft Minimum)

Electricity per day
(per/ft)

Transit Dockage

$1.00

$ .35

Weekly dockage

$ .90

$ .35

30-60 days

$ .75

Negotiable

61-90 days

$ .60

Negotiable

91 days +

$ .40

Negotiable

Water $7.00 per day up to 60 days; $5.00 over 60 days.

Xanadu Beach Marina & Resort
Sunken Treasure Drive, Freeport
P.O. Box F-42439
Tel: 242-352-6782
Fax: 242-352-5799
Description: 77 Slips - Can accommodate vessels 100 feet plus.
Depth dockside: 8 feet.
Facilities: fuel, water/ice, accommodations, laundry, showers, telephone, cable TV, restaurant & bar, marine tackle shop, gift shop, pharmacy, 38-foot sport-fishing charter boat available. Liquor store and casino nearby. Room service available to boats.
Dive Monitoring: VHF 26.

Dockage Rates

Type/Time

Winter
Sept. 01 – March 31

Summer
April 01 – August 31

Daily

.75 cents per/ft

.90 cents per/ft

Weekly

.60 cents per/ft

.75 cents per/ft

Monthly

.45 cents per/ft

.60 cents per/ft

Water $5.00 daily; $90.00 monthly.
Electricity $10.00 daily; $150.00 monthly.