Close Encounter
The Close Encounter gives visitors an opportunity to touch and stand in the water with these wonderful animals, talk with the trainers, and take photographs. It is great fun for the entire family.
Assistant Trainer Program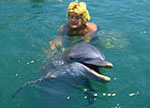 The Assistant Trainer program is an all-day educational interactive experience in which up to four people each day are taken "behind the scenes" to work with the animal care staff. This memorable day includes training sessions, assisting with feeding the animals and an opportunity to swim and snorkel with them.
Open Ocean Programs
A number of Open Ocean programs are conducted, including the unique Dolphin Dive, in cooperation with UNEXSO. Every day, dolphins follow a dive boat out to the open ocean and inteact with scuba divers a mile offshore on the coral reef. This popular dive gives people a safe and educational way to interact with dolphins without disturbing wild populations.


Contact Info:
Main Headquarters
P.O. Box 42433
Freeport, Grand Bahama Island
The Bahamas
Tel: 242 373-1250
Fax: 242 373-8956
Reservations
P.O. Box 22878
Fort Lauderdale, FL 33335
USA
Tel: 800-992-3483
Fax: 954-351-9889