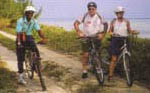 This tour allows you to experience the natural beauty and diversity of Grand Bahama Island by bike. You'll be able to:
Ride an historic trail that early settlers walked.
Visit the ruins of one of the island's first settlements.
Stop along wetlands to glimpse stately Herons and Egrets.
View a variety of picturesque scenery, including the pine forest and shady coppice (hard-wood forest).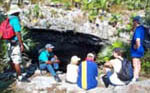 During the tour, your guide will not only share the island's history with you, but will also identify migratory bird life and the various species you may only observe in The Bahamas. Plus, you'll get to visit one of the most fascinating elements of the island's geology -- an inland "blue hole."
The tour is conducted at a very leisurely pace, on an easy, mostly hard-compacted trail with no vehicular traffic. The route runs along the south shore of the island, where the vista changes from pristine sandy beach to rocky shoreline. There are frequent stops for snacks and relaxation and a swim in the turquoise waters of the ocean at the end of the tour.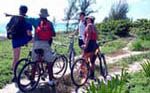 Bus transportation is provided from your hotel to the beginning of the bike trail and you'll be returned to your point of origin at the end of the tour (approximately five hours). The price is $69 per person, which includes transportation, mountain bikes, backpacks, water, snacks and guide.
For further information contact:
Kayak Nature Tours, Ltd.
Tel./Fax: 242-373-2485
Email: Kayaknaturetours@coralwave.com
Website: www.bahamasvg.com/kayak.html

Photos courtesy of
Erika Gates, Kayak Nature Tours