T H E I S L A N D S
...................
...............
Freeport/Lucaya/West End -
Island of Action
Grand Bahama is the home of Freeport/Lucaya, the nation's second city, with a faster pace and a more cosmopolitan atmosphere than the old-world sophistication of Nassau.
Freeport/Lucaya is a sportsman's paradise, with championship golf, tennis, scuba diving, and fishing. In fact, it was designed especially for your pleasure. Forty years ago Freeport/Lucaya didn't exist; today, it's a fantasy vacation made real on the shores of Grand Bahama.


For unadulterated pleasure, there's no better getaway in The Bahamas. As the popular Bahamian song says:

"If you can't find them--they're in Freeport or they're in jail"
Freeport/Lucaya isn't the whole of Grand Bahama. The island itself has been settled for centuries, providing a rustic environment--if you want one--to your stay. The easternmost edge of the island has beaches which are entirely deserted. The towns of the West End, which during prohibition were a hideout for rum-runners, have an old-world charm. In the parks of the island, one can find remnants of the island's earliest Arawak civilizations, and the more recent intrusion by pirates. Grand Bahama does in fact have hidden histories and a deliciously shady past.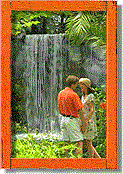 With an emerald ocean that can perhaps be called the most vividly colorful in all of the islands, and a landscape on which can be found everything from ultramodern resorts to deserted sands, unchanged since the days of the buccaneers, Grand Bahama holds the potential for every sort of Caribbean vacation. Where else could you shop at an all day International Bazaar, explore one of the largest underwater caves, stroll an exotic nature land in search of flamingos, swim with dolphins, and come face to face with sharks -- all in one day? You'll certainly want to take advantage of the East End's deserted beaches for an extended period of tropical relaxation. After all, it was the native Bahamians, the Arawaks, who invented the ultimate in relaxation: the hammock.