T H E I S L A N D S
..................................
Bahamas Island of Contrasts
Long Island is not only long (60 miles), it is also narrow--no more than 4 miles at its widest point. It is indeed a land of eloquent contrasts in geography, architecture and enterprise.
One of the most scenic hideaways in The Bahamas, it is divided by the Tropic of Cancer and bordered by two very different coasts, one with soft-white, broad beaches and the other rocky headlands that descend suddenly into the roiling sea. The terrain varies from sloping hills in the northeast to low hillsides in the south fading into stark white flatlands where salt is produced; from swampland to beautiful beaches. Long Island is considered to be one of Columbus' early stops, probably his third, after San Salvador and Rum Cay. Indians supposedly called it "Yuma" and Columbus named it "Fernandina" after his mentor in Spain.
Loyalists from Carolina settled here in 1790 with their slaves. They built vast plantations, which thrived briefly growing sea-island cotton, but the abolition of slavery made them unprofitable. Today many of the Loyalist mansions stand in skeletal form etched against the sky. Although the plantations are no more, agriculture is still very much a part of the life here. Many Long Islanders engage in pot-hole farming, which involves planting in fertile holes in the limestone where good top soil collects. From these an abundance of peas, corn, pineapples and bananas are grown. Raising sheep, goats and pigs also provides a living for the inhabitants. Long Island is famous for its vegetables and cattle and supplies much of the farm goods to the other islands.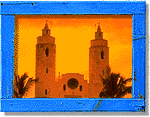 More than a century ago, settlers built a good carriage road running the island's entire length. This was an island that understood that commerce and development are fueled by good connections. On this road you will find the main settlements, situated around the harbours and anchorages--from north to south, Burnt Ground, Simms, Wood Hill in the center, Clarence Town (one of the largest settlements), Roses and South Point. The island is also a favorite stop for divers, fishermen and yachtsmen. The town of Stella Maris in the north is popular with scuba-diving enthusiasts.