Sailing Capital of The Bahamas
The Exumas were settled in 1783 by American Loyalists who wanted to remain true to the British king after the United States won the American Revolutionary War. They reassembled their former way of life in these islands, complete with cotton plantations and African slaves. Remnants of these plantations still remain. Lord John Rolle was a major landowner and one of the most powerful Loyalists. When he freed his slaves in 1835, he bequeathed his land to them for life. In gratitude, several towns are named after him and many of the people in The Exumas wear the name of "Rolle" with pride.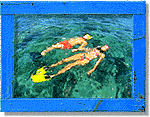 They say of the Exumas, "If you can't sail them, be sure to gaze down when you're flying overhead." This chain of 365 cays (one cay for each day of the year) is strewn over a 100-mile expanse of the most breathtakingly beautiful stretch of waters in The Bahamas. The myriad unnamed beaches and coves excite yachstmen, and divers relish their unspoiled waters. Most of the cays are unpeopled, strolled only by iguanas.