BEACHES
BICYCLING
CRICKET
DINING
ECO-ADVENTURES
FLYING
GAMING
GOLF
HUNTING GREEN FLASHES
PARASAILING
SAILING/BOATING
SHOPPING
SNORKELING
SPORT FISHING
TENNIS
WINDSURFING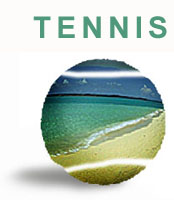 Both golf and tennis have found their ideal location in the consistent sun of The Bahamas, and the islands regularly host world-class tournaments in each. There is no season to limit play here, just year-round blue skies and warm weather. Nassau averages seven hours of completely sunny skies per day, and rain seldom lasts for longer than it takes to get under cover, even during the rainy season.
Tennis courts are available on almost every island with reasonably-sized guest accommodations; the surfaces include Flexipave, clay, asphalt, Plexicrome, Har-Tru, or cork, and most are night-lit. If you're planning to play during your stay, be advised that most playing facilities are part of resorts.