Macuto
Introduction

When Caraquenos wish to escape the noise and bustle of Venezuela's capital, many come to Macuto, which lies just north of the city along the Caribbean Coast. Although it is one of several coastal towns that cater to tourists, it is widely regarded as the best in the area because of its pleasant layout, fine accommodations and strong infrastructure.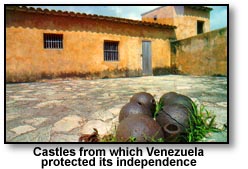 Macuto was founded in 1740 - somewhat late compared other Venezuelan towns, but it has a long tradition as a getaway. In 1888, Venezuelan President Joaquin Crespo built a mansion here; it is called La Guzmania, and it can still be visited although it is now a college. Besides the beaches, the city has a promenade along the coast, a good marina, several interesting museums and excellent dining.
---
Copyright (c) 1998-2010 interKnowledge Corp. All rights reserved.
.