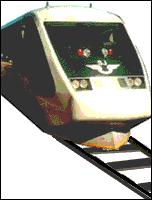 Sweden's modern railroad network can take you just about anywhere. It is also easy to travel by train from the neighboring Scandinavian countries. InterCity and InterRegion trains have 1st and 2nd class cars, refreshment service and telephones onboard. Special Tickets are available for scenic railroad routes, such as the Wilderness Train, and there are several historic railroads with restored engines and cars.
If you prefer life in the fast lane, the X2000 high speed train between Stockholm and Gothenburg is a must. The trip takes 3 hours on the 125mph train. It is equipped with phones, fax, and even toys for kids.
Other high-speed connections from Stockholm are: Malmö, Karlstad/Arvika, Jönköping, Falun/Mora, Sundsvall/Härnösand, Växjö/Karlskrona and between Gothenburg and Malmö. Several budget fairs are available on weekends, holidays, and in the summer. Travelers are served a meal at their seat in 1st class. There is also a bistro car with hot and cold meals for travelers in 2nd class. Sleeping accommodations are available on longer routes.
Regular point-to-point tickets are fine when all you want is one or two short trips, but when touring a country it is much more economical to use discount passes. Scanrailpasses and Reslust Cards offer good discounts within Sweden, and more information is available at the ETC Home Page.
---
Copyright (c) 1997 - 2008 interKnowledge Corp.
All rights reserved.