| | |
| --- | --- |
| | Oaxaca, Mexico |
---
Amenities
---
Meeting Rooms & Capacities

Room
Dimension
Schoolroom
Theater
Cocktail
Banquet
Buffet
Dinner /
Dance
"U"
Shape
El Tule AB or
Mitla AB
101 sq meters
[12.80 x 7.90]
54
90
100
60
40
-
30
Monte Alban
A or B
200 sq meters
[25.60 x 7.80]
108
200
420
120
90
70
-
Monte Alban AB
400 sq meters
[25.60 x 15.60]
280
440
420
280
220
200
60
El Tule AB or
Mitla AB
202 sq meters
[25.60 x 7.90]
-
200
-
120
90
70
-
Monte Alban AB +
Mitla AB
or Monte Alban AB +
Tule AB
601 sq meters
[25.60 x 23.50]
390
600
620
420
350
270
90
Monte Alban B +
Mitla AB or
Monte Alban A +
Tule AB
402 sq meters
[25.60 x 15.70]
280
440
-
280
220
-
60
Monte Alban,
Mitla & Tule
804 sq meters
[25.60 x 31.40]
600
700
800
560
480
470
150
Olinala
223 sq meters
[24.30 x 9.20]
80
140
150
80
80
60
40
Note: Ballroom divides into five small meeting rooms, with a capacity from 20-700 people.
---
Restaurants & Bars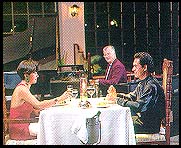 Our superb dining and entertainment facilities are great places to quench your thirst or put you in a romantically Mexican mood, rousing your appetite with a "South of the Border" flair:

Dona Rosa
A delightful, casual spot, serves breakfast, lunch, dinner and snacks overlooking the pool and tropical gardens.

Casa Real
Our main restaurant, offers Mexican and Continental specialties prepared to perfection. Piano music complements evening dining in an elegant setting.

El Jorongo
An old-style cantina, features colorful entertainment from two live bands and uniquely Oaxacan shows. Its biting Mezcal and other specialties are a challenge to your palate.

La Tortuga
A swim-up bar, with sizzling fresh seafood and pizza baked in an ancient brick oven, giving it a flavor all of its own.

Lobby Bar
Here you can enjoy stunning views of the bay and gardens, while sipping a Mexican beer or tropical cocktail. It is also perfect for relaxing to piano music in the evenings.

If you prefer to stay in, room service is pronto, 24 hours a day.
---
General Information
Check-in: 3:00pm
Check-out: 1:00pm
Room Tax: 15% (V.A.T.) subject to change by government
Electrical Current: 110V/60 Cycles (adapters available)
Safety: Smoke detectors/sprinkler system
Parking: Complimentary for guests
Entry and Exit
Travelers to Mexico must have a tourist card, available free of charge from your travel agent, airline or the Mexican Government Tourism Office. This card should be kept with you at all times and presented at the airport prior to departure, along with proof of citizenship. There is a departure tax.

Currency
Mexican pesos and US Dollars are widely accepted.

Language
Spanish is the national language of Mexico, but most people will also speck English.

Tipping
Usually 10-20%. If a service charge is added, do not tip. Taxicab drivers do not expect a tip unless hired by the hour, or for the entire day.

Tax
A 15% Value Added Tax is added to the cost of goods and services.

Business Hours
Banks are open from 9:00am to 1:00pm, Monday through Friday. Exchange services generally stay open later. Shops are open from 10:00am to 7:00pm.

Health
It is best to avoid unpeeled fruits and vegetables sold by street vendors. The hotel has a water purification system for safe drinking water; outside the resort, bottles sodas, beer and water are best.

Climate
The average annual temperature is 82 F / 28 C, with clear skies 80% of the time. August to October is the rainy season, but showers are brief and can rival the sunshine in beauty.

Attire
Dress is relaxed, casual and chic. Shorts and bathing suits are ideal for the day and nighttime is great for showing off your resort wear. Comfortable shoes are suggested for excursions.

Sheraton Huatulco Overview | Rates & Special Packages
An Introduction to Huatulco & The Bays | Exploring Huatulco
Sheraton Latin America Home Page
---

For reservations at any ITT Sheraton property, contact your travel agent, call toll-free (800) 325-3535 in the US and Canada, or the nearest ITT Sheraton Hotel Reservations Office.
Sheraton Huatulco Resort
Paseo Benito Juares S/N
Bahias de Huatulco
Oaxaca, Mexico C.P. 70989
Tel: 91 (958) 10055
Fax: 91 (958) 10113
All major credit cards accepted.
---
Copyright (c) 1996 interKnowledge Corp. All rights reserved.