HUATULCO
An Introduction

Huatulco (pronounced Wa-TOOL-Ko) is located on the Pacific coast in the state of Oaxaca (pronounced Wa-HA-Ka). Considered Mexico's most enchanting destination, Huatulco invites exploration of its offshore reefs rich with marine life and natural treasures and its unique cultural heritage. Many of its 10,000 inhabitants are of Indian descent, and it is the only area where past and present co-exist harmoniously. Centuries of Mexican history and culture are depicted in quaint coastal fishing villages bordering secluded coves.
Although the oldest maps of the Americas mention Huatulco as a well-known port, it was formerly only a cluster of huts on a beach. The Spanish traders came to call by sea, as did pirates of the 16th and 17th centuries, seeking refuge in the Bay of Santa Cruz. It provided them with a perfect hideaway that was kept secret for thousands of years and is today still far removed from the influences of modern life.
---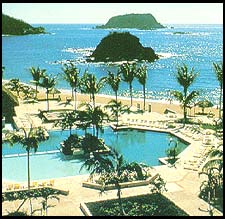 At the point where the Sierra Madre mountains meet the Pacific Ocean, nature has carved into the cliffs an extraordinary series of bahias or bays, along 22 miles of curving coastline. Each jewel in this necklace of half-moon beaches is hidden from the rest by the rugged cliffs and mountains, retaining its own unique character. The nine bays of Huatulco are mostly desolate. Some of them have no access by land to their beaches--Bahia Conejos, de San Agustin, Chahue, Chachacual, Maguey and Organo. A visit by boat to these secret treasures provides a rare glimpse of Huatulco's hidden past. Roads have been carved from the interior to the other three bays, like the Bay of Tangolunda, allowing better access to these ancient paradises, but carefully preserving their ecology.
---
Copyright (c) 1998-2008 interKnowledge Corp. All rights reserved.

.