Original Official Site of the Russian National Tourist Office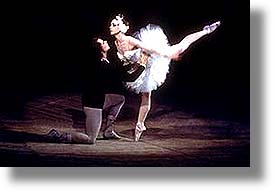 Moscow's central theater district lies a short distance to the northeast of the Kremlin and Red Square. Both the Bolshoi and the Maly theaters sit directly on Theater Square, while the Moscow Arts Theater lies just around the corner.

---
The imposing home of the internationally-famed Bolshoi ballet was constructed in 1824 by Osip Bove, though the company itself was begun in 1773 as a dancing school for the Moscow Orphanage. For much of its history the Bolshoi was overshadowed by the Mariinsky Theater in St. Petersburg, but with Moscow's restoration as the capital in 1918 it gained preeminence. For most of the last three decades the Bolshoi was led by Yuri Grigorovich, an artistic director known as much for his autocratic control as for his accomplished, classical choreography. Under Grigorovich's tenure, and graced by the presence of a series of remarkably gifted dancers, the Bolshoi's became known as one of the world's great companies. Despite Grigorovich's departure in 1995, its performances continue to elicit international acclaim, and an evening at the Bolshoi remains one of Moscow's sublime pleasures. Although recent years have begun to take their toll on the theater's grandiose ionic facade, the lovely, acoustically-excellent theater within remains as captivating a venue as ever before.
---
Though much less well-known today than either the Bolshoi or the MKhAT, the Maly gained renown during the nineteenth-century as a venue for social and political satires. The plays of Alexander Griboyedov (1795-1829), Nikolai Gogol (1809-52), and Alexander Ostrovskiy (1823-86) gained their first performances here, making the Maly an early center for a culture of intellectual opposition to the Tsarist state.
---
Moscow Arts Theatre (MKhAT)
The foundation of the Moscow Arts Theater in 1898 marked the birth of modern drama. By bringing together the radically new plays of Anton Chekhov and the method-acting techniques of Konstantin Stanislavsky, the MKhAT broke radically with the classical tradition of European drama and invented a fresh, realistic theater that continues to influence theatrical production all over the world. Although the advent of the Soviet state rapidly constrained the artistic inventiveness of the MKhAT, it maintained its commitment to the finely-modulated dramatic style first developed by Stanislavsky and his co-founder Vladimir Nemirovich-Danchenko. A century later, the MKhAT is no longer on the cutting edge of Russian theater, but it maintains its position as the premier method-acting company in the world. .