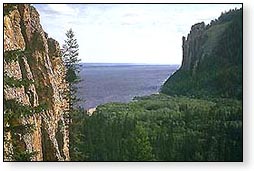 As the vast evergreen forests of Russia's Siberian taiga extend southward toward Mongolia, the ground rises and the terrain becomes more varied. The border between Siberian Russia and Mongolia is a natural divide here, with rugged hills and mountains forming series of wrinkles between the sprawling Russian forests to the north and rolling grasslands to the south. About midway along this border, in a gigantic stone bowl nearly four hundred miles (636 km) long and almost fifty miles (80 km) wide, lies almost one quarter of the all the fresh water on earth--Lake Baikal.
Baikal is easily the largest lake in Eurasia, and it is just as easily the deepest lake in the world (1,620 metres). On the merits of magnitude alone the lake is renowned as one of the earth's most impressive natural wonders, and rightfully so--Baikal is so large that all of the rivers on earth combined would take an entire year to fill it.
What fewer people realize, however, is that Baikal's majestic expanse is situated in a region of surpassing beauty, its forested shores surmounted by the jagged, snow-clad peaks of the Barguzin mountains. In the winter Baikal freezes over, with ice so thick that the Trans-Siberian Railway was briefly run over its surface. At this time of year the lake provides an unsurpassed venue for the pleasures of a tour by sleigh. In the summer, its crystalline blue waters are transparent to a depth of forty meters, and its shores are ringed with the brilliant colors of seasonal wildflowers. Boat tours offered during the warm months are one of the best ways to gain an introduction to the lake, as is hiking amongst the forests, streams, and waterfalls of Baikal's parks. The lake region is home to an enormous variety of plants and animals, most of which--like nerpas,the lake's freshwater seals, and its trademark delicacy, the omul salmon-- are found nowhere else in the world. Bears, elk, lynx, and sables abound in the surrounding forests.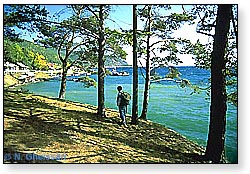 Lake Baikal long ago became famous for the purity of its waters and surrounding shores, a pristine state that had been seriously threatened by planned industrial development in recent years. Luckily, Baikal was one of the first regions to benefit from the new Russian government's reversal of decades of anti-environmental industrial policies. Since 1992 Lake Baikal and the entire surrounding area have been designated as a national park, and Baikal is today a naturalist's paradise and an idyllic holiday destination. With fine beaches, excellent hiking, birdwatching, and pleasure boating, Baikal is well-positioned to become one of the most attractive vacation spots in Asia.